On Campus
Librarian Profile: Jenise Overmier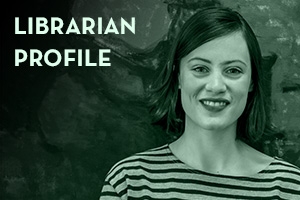 Instruction Librarian Jenise Overmier knew that she wanted to work in librarianship early on in her college career. Her deeply held belief that education should be accessible for all people prompted her journey down this path. As a student at the University of Montana, she pursued a course in Liberal Studies that allowed her a broad overview of the humanities, something that is often handy at the Research Assistance Desk. From there, she was drawn to the University of Texas in Austin because of their unique course offerings in conservation and archival studies. After completing her Master of Science in Information Studies, Jenise took some time to travel around the world, exploring national parks here in the U.S., as well as Iceland, Turkey, and France, before relocating to Washington, DC.
Where can you find her?
Jenise can be found all across campus, providing in-class research instruction for College Writing students, helping users at the Library's Research Assistance Desk, serving on a variety of teams and committees, and lending a helping hand in Archives and Special Collections.
Her background in preservation allows her to contribute to Special Collections projects, such as rehousing fragile materials and analyzing collections for preservation processes. "I love working with my hands I am so fortunate that Susan [McElrath, University Archivist] has welcomed me into the archives."
When she is off-campus, Jenise can often be found relaxing in one of the many beautiful parks around town, reading, enjoying the fresh air, people watching, and "trying to coax squirrels into being [her] pets."
Why she loves her job
The idealism and energy of college students is a major perk of working at AU for Jenise. In her role as Instruction Librarian, she works with a number of freshmen and several of the College Writing professors, with a primary aim of helping these students build a foundation of information literacy. When asked about her favorite part of the job, she responds "I am all about the students! AU students are committed to their studies and incredibly passionate about making the world a better place. I love introducing them to tools they'll be able to use throughout their lives, like different research methods and how to synthesize information to strengthen their academic projects."
In the Community
Always eager to be more involved in interdepartmental collaborations, Jenise is a part of the Faculty Senate Social Media Guidelines Committee, the Library Green Team, the External Diversity &Inclusion Committee, and multiple marketing teams. By establishing connections with other departments and units at the university, Jenise continues to learn more about the institution and gains new insight into making the Library even better.
"Libraries are community centers. We've got something for everyone, whether you need help with a research project, a safe space to study, or something in between. I've always felt at home in them and I want to ensure that our students and community members feel that way too."