On Campus
WRLC Celebrates Expansion of Shared Collection Facility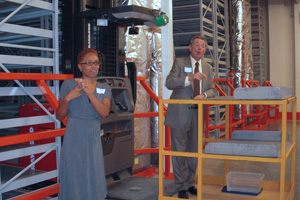 What does a library do when it has more books than shelves? The answer for AU Library is nearby! In addition to having easy access to materials at other libraries in the Washington Research Library Consortium (WRLC), students, faculty, and other AU researchers can also borrow from a shared collection of almost 1.4 million volumes in the WRLC Center in Upper Marlboro, Maryland, not far from the District line. And now there is new space to add to those collections.
On Monday, September 13 more than 200 people from the WRLC member institutions came together to celebrate the completion of a new expansion to the space that doubles its capacity. Like the original structure, the new building is 12,000 square feet and will hold about 1.5 million volumes. Both old and new buildings provide high-density storage in optimum environmental conditions. Specially designed "cherry pickers" are used to quickly retrieve books which are then delivered once per business day via courier service to the WRLC libraries.  
At the WRLC celebration, Mark Jacobs, Executive Director, said, "Our new shared collections facility is a tangible, concrete example of the collaborative partnership among our nine organizations…" Bill Mayer, University Librarian at American University and current chair of the WRLC Library Directors Council, spoke at the event and commented that the Consortium represents opportunity in ways that we rarely get to see exercised in a university setting. Professor of Classics and Provost at Georgetown University, Dr. James O'Donnell, who served as Chair of the WRLC Board of Directors for the past two years, and was instrumental in guiding the new building to completion,  remarked, "We have seen extraordinary transformation in the past twenty years of the WRLC and the greater world. The fundamental insight of WRLC is that you can bring people, ideas and resources together and connect them in very smart ways to leverage benefits for a population much larger than the one you ever imagined. We know we have done a lot of that and are going to do a whole lot more. We don't know everything that we can do with all this technology and all the resources that we have brought together but we know that what we make of it will surprise us and delight us and enlighten us in ways that we cannot now imagine."

Portions of this story were drawn from the Newsletter of the Washington Research Library Consortium, edited by Mark Jacobs, WRLC Executive Director.