On Campus
Collection Spotlight—Black History Month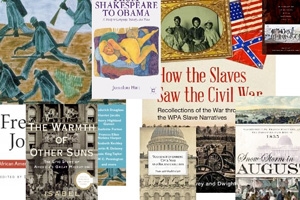 Black History Month is a time of observance in the United States, Canada, and the United Kingdom during which we reflect on the important people and events in African American history. The precursor to Black History Month was Negro History Week, which was created 1926 and was since expanded to a month long celebration during the bicentennial of the United States in 1976. For more about the origins of this observance, read Ralph Crowder's "Historical Significance of Black History Month" in Black History Bulletin (requires AU login) or check out our African American Studies LibGuide. Here at Bender Library at American University, we have curated the best books, films, and music selections to recognize the important contributions made by African Americans.
Books:
Black History extends from the time of slavery to present day America under the leadership of the first African American President of the United States. These selected books highlight experiences of black Americans throughout history.
From Slavery to Freedom: A History of African Americans by John Hope Franklin and Alfred A. Moss [E185 .F825 2000]
This is the powerful story of African American history, from the slavery era through the late twentieth century.
Narrative of the Life of Frederick Douglas by Frederick Douglas [E449 .D749 2005]
This highly influential book changed the abolitionist movement forever in 1845 through its account of Douglass' life as a slave and his ambition to become a free man.
The Souls of Black Folk by W.E.B. Du Bois [E185.5 .D83 2005]
Du Bois' 1903 collection of essays was groundbreaking in creating an intellectual argument for the black freedom struggle in the twentieth century—which continues to resonate in the twenty-first.
Black Like Me by Howard Griffin [E185.61 .G8]
A nonfiction account of Griffin, who was a white native of Dallas, Texas, as he traveled for six-weeks through Louisiana, Mississippi, Alabama, and Georgia passing as a black man after artificially darkening his skin.
Dreams from My Father: A Story of Race and Inheritance by Barack Obama [E185.97 .O23 A3 1995]
The President of the United States explores his heritage in this memoir and speaks to the current issue of racial tension within our nation.
Films:
If a picture is worth a thousand words, these films tell a score of struggles and triumphs in black history.
Roots (1977) [HU DVD 6121]
Based on the novel, Roots: the Saga of an American Family, Alex Haley chronicles the story of his own family across many generations. It begins with an 18th century African, Kunta Kinte, who is captured and sold into slavery in the United States, then traces his life and the lives of his descendants in the U.S. into the twentieth century.
Glory (1989) [HU DVD 1171]
One of the best Civil War films ever made, this film follows the US Civil War's first all-black volunteer company, fighting prejudices of the Union Army and the Confederates.
12 Years A Slave (2013) [HU DVD 11176]
The Oscar winning film tells the story of Solomon Northup, a free black man from upstate New York, as he is abducted and sold into slavery.
42 (2013) [HU BLU 4622]
This films depicts the story of Jackie Robinson from his signing with the Brooklyn Dodgers organization in 1945 to his historic 1947 rookie season when he broke the color barrier in Major League Baseball.
Malcolm X (1992) [DVD 165]
Denzel Washington holds nothing back in his portrayal of the controversial and influential Black Nationalist leader in this Spike Lee film.
Music:
Music is an integral component of the history of black Americans. Here is just a small sampling you can find in our streaming content or in the American University Music Library, located in the Katzen Arts Center.
Negro Spirituals [http://bit.ly/1whlDNg]
This collection catalogs a sampling of songs slaves sang for inspiration while working and, sometimes, use to secretly coordinate runaways to freedom.
Jazz
Jazz originated in African American culture, evolving from Negro spirituals and European music. Some influential black jazz artists include Louis Armstrong [CD 3332], Duke Ellington [http://bit.ly/1yEHICx], Miles Davis [http://bit.ly/1AmpS9G], and Billie Holiday [http://bit.ly/1IGqhtx]. All of these artists, and many more, used their talents and prestige in the 20th century to fight for equality in the United States and across the world.
Go-Go
Originating in Washington, D.C. during the 1970s, Chuck Brown, the "Godfather of Go-Go," introduced this subgenre of funk to the black music circuit. Get a taste of the culture, and D.C. history, with a live recording of Chuck Brown at the 9:30 Club [CD 9827].