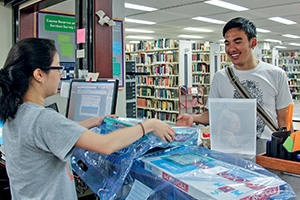 Need a break from the endless schedule of classes and studying? Hunting for ways to have fun on campus while still saving money? Look no further than the AU Library. The Course Reserves and Technology Borrowing desk on the Lower Level of the Library now has a wide-ranging collection of games available for a 3 day check-out. Our extensive collection (more than 90 titles) includes everything from classics, such as Twister (AUGAME 13–14), Monopoly (AUGAME 73–76), and Risk (AUGAME 22), to more recent table top, computer, and video games. Below are just a few standouts from our collection:
The game that arguably started the recent table top trend, Settlers of Catan (AUGAME 03) pits you against your friends in a race to colonize the island of Catan. While creating roads, settlements, and cities with your collected resources, you must also effectively block your opponents from building across the board.
In the board game Pandemic (AUGAME 08), players work cooperatively instead of competitively. With each player in a randomly selected role, they must work together to stop the spread of four diseases in separate regions of the world. The Pandemic: On The Brink (AUGAME 07) and Pandemic: In The Lab (AUGAME 09) expansion sets are also available for checkout.
Playstation 2's Katamari Damacy (AUGAME 32) is a zany puzzle game where, as the Prince of the Cosmos, you must roll a magical, adhesive ball through various locations, collecting increasingly larger objects (thumbtacks, pets, cars, people, mountains) until the ball has grown great enough to become a star.
Which was invented first: glasses or the light bulb? Test your knowledge of the recent past with Timeline (AUGAME 90), a fun and easy card game about inventions and historical accuracy.
Distant Plain: Insurgency in Afghanistan (AUGAME 51) is a unique strategy game developed from recent news headlines. Players represent either insurgent or counterinsurgent factions in modern-day Afghanistan, where they must build and maneuver forces to effectively control the population.
Test your card-playing skills with Dominion (AUGAME 16), a medieval-themed game where 2–4 players compete to gain the most victory points and build a valuable deck of cards.
Check out the Board Games board on our Pinterest page to explore all current titles in our collection, as well as to see their availability. If you find a game you like, just drop by the desk on the Lower Level of the Library. Because the games are kept behind the Reserves and Technology Borrowing Desk, it is important to have not only your AU ID, but also the call number of the game. All games are available for a 3-day loan with no renewals. Games must be returned directly to the Course Reserves desk; if the desk is closed, they may also be returned to the Information Desk on the first floor. Games should not be returned to the front book drop or the Borrowing Desk. Overdue fines are $1 per day. 
For more information on the Library's games collection, you can go to the Course Reserves and Technology Borrowing desk. You can also contact us by calling 202-882-3231 or e-mailing reserves@american.edu.