On Campus
Gender and Sexuality Collection Comes to AU Library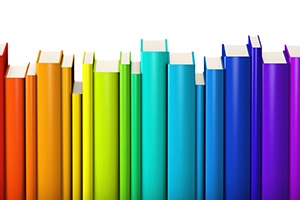 Since 1994, the Gender and Sexuality Library has provided members of the AU community with access to a diverse collection of fiction and nonfiction books, as well as various TV series and movies. This well-curated selection of materials covers topics such as sexuality and religion, social organization, equality and gay politics, family and marriage, and women and feminism. It also offers visual materials ranging from academic documentaries to popular television series like Buffy the Vampire Slayer and The L Word.
During the summer of 2015, this set of materials was integrated into the general collection at the Bender Library, a shift which expands the accessibility of this important collection. Until now, the Gender and Sexuality Library was housed separately from the general collection in the Center for Diversity and Inclusion (CDI), meaning that the materials could only be checked out by users with an AU ID. Anyone else visiting the CDI could use the materials on-site only.
Now that this collection is incorporated into the holdings of the Library, these materials will be available for students, staff, and faculty at other Washington Research Library Consortium schools. This means that the following colleges will be able to borrow this material from AU easily and quickly: Catholic University of America, Gallaudet University, George Mason University, George Washington University, Georgetown University, Howard University, Marymount University, and University of the District of Columbia.
In addition to being more accessible for other consortium members, these books and DVDs will also be available through Interlibrary Loan to researchers and students across the globe. Sara Bendoraitis, Director of Programming, Outreach, and Advocacy for the Center for Diversity & Inclusion, describes this as a "bittersweet moment." "It is a little sad to see the empty shelves, but awesome to know that this information will be so much more available."