On Campus
DC Community Gardens have their Roots in Victory Gardens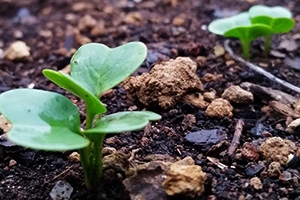 Tucked into the northwestern corner of campus is AU's community garden, a small plot run year-round by student group AU Community Garden Club. In the summertime, this garden is lush with squash, peas, and greens, and is a testament to AU's commitment to sustainability. In addition to our campus plot, there are dozens of other community gardens in DC, some even within walking distance from campus. These gardens are often not only rich in produce, but rich in history as well.
One example is the Glover-Archbold Park Community Garden, which is located less than a mile down the New Mexico Avenue hill. The garden is just under three acres large and is home to an expansive 150 garden plots. It is also a former "victory garden," or a garden that was planted during the early 20th century's World War era to help increase the public food supply. This garden can reportedly trace its roots to the spring of 1943, when 400 acres of land were given to DC's "District Victory Garden Committee" to be allocated among 6,000 DC gardeners. According to 1943 estimates from the Department of Agriculture, there were about 18-20 million victory gardens throughout the United States at that time. Families planted gardens not only in the spirit of self-sufficiency, but also as a way to calm anxious nerves and to provide stability during wartime. Of the 36 community gardens in Washington DC, Community Garden Data from 2010 estimated that about a third were former such victory gardens.
To learn more about DC history, check out the DC History and Local Area Studies subject guide, where researchers can read about and explore DC's historic neighborhoods, culture, and green spaces.
Aside from our comprehensive subject guide, there are some fascinating resources in the AU Library collection, with more information on victory gardens and community gardening.
Char Miller's "In The Sweat Of Our Brow: Citizenship In American Domestic Practice During WWII—Victory Gardens" from the Journal Of American Culture, v. 26, issue 3 (access available to AU Community only)
Cultivating Victory: the Women's Land Army and the Victory Garden Movement by Cecilia Gowdy-Wygant (access available to AU Community only)
City Bountiful: a Century of Community Gardening in America by Laura J. Lawson
If you'd like to get involved with local community gardens and garden-related organizations, consider these options:
AU's Arboretum (hires interns every summer)
DC Department of Parks & Recreation