On Campus
Declassfied Documents Database System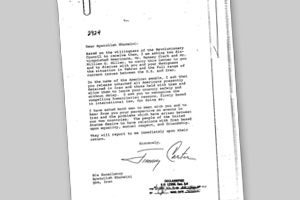 One of the most memorable crises of the twentieth century for the United States was Iranian hostage crisis during the Carter administration. Americans watched hostage parades and related news in a nightly broadcast called "America Held Hostage, Day X" which morphed into ABC's Nightline program and increased traffic for a brand-new cable channel called CNN just founded the year before. Debate about the impact on the Carter presidency continues to this day especially since President Carter lost his bid to be re-elected for a second term in office to Ronald Reagan. The repercussions from the hostage incident may be reflected in the current strained relations between Iran and the United States. As the images here from the Declassfied Documents Database System indicate, intense diplomatic negotiations were underway behind the scenes during the crisis. These documents and many more related to the presidencies of Carter, George H. W. Bush, Ronald Reagan, and Bill Clinton can be found in the database. 
Thanks to the generous gift of Ronald Hamowy, a Fellow at the Cato Institute and Emeriti Professor at the University of Alberta, and Clement Ho, library faculty member and collection manager for SIS, SPA, and the Social Sciences, you can view secret and top secret government documents associated with the most important events of the last half of the twentieth century. For researchers, the Declassfied Documents Database System provides an extensive range of primary sources and for the casual reader, a series of fascinating glimpses into what was really happening behind the scenes as these events were making history. 
The Declassfied Documents Database System contains more than 100,000 documents totaling more than 600,000 pages. A basic or advanced search provides easy access to the materials in the database which are U.S. government documents declassified since the Freedom of Information Act was signed into law in 1967. The documents include material on foreign and domestic policy. Some still contain redacted material, and some still bear their secrecy designations. You can even search by classification level as well as by choosing "sanitized or unsanitized." Document sources include the CIA, the FBI (try a search on J. Edgar Hoover, for example) and the Joint Chiefs of Staff. Other materials were collected from the National Archives and from Presidential Libraries.