On Campus
American University's Top Stories of 2011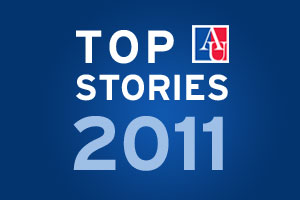 From innovative scholarship and sustainability initiatives to high-profile guest speakers and profile-raising honors and awards, 2011 was a remarkable year at American University.

We've assembled a list of the most noteworthy stories of 2011—those which garnered the most Web hits—as a celebration of the AU community's accomplishments. Share your favorites on our Facebook page or on Twitter.

1. New Faculty and Deans—AU welcomed 33 new tenure-line faculty, with research interests ranging from ethnomusicology to astrophysics. Meanwhile, James Goldgeier took the helm at the School of International Service while Michael Ginzberg was named dean of the Kogod School of Business.

2. Research—Using his "13 Keys," history professor Allan Lichtman predicted that Obama will win reelection in 2012 — a forecast that has the media buzzing. Taryn Morrissey's research linking maternal employment to children's body mass index (BMI) garnered headlines, while spring training sparked renewed interest in a 2010 story about Arthur Shapiro's curveball research. (Shapiro's finding: no pitcher can make a curveball "break" or a fastball "rise.")
3. Awards and Recognition—In March, AU was third in the nation for undergraduate internships, according to U.S. News and World Report. Six months later, using updated data, AU shot to the top of the list, with 85 percent of 2010 grads having held at least one internship. Three SIS students received prestigious Fulbright grants this year, while AU was named the greenest university in the nation, becoming the first institution to earn a gold rating from the Association for the Advancement of Sustainability in Higher Education.

4. Sustainability—In April, the country's greenest university lived up to its name, installing one of the largest solar electricity systems in Washington, D.C., and the largest urban solar hot water system on the East Coast.

5. Innovation—AU cancelled evening classes on January 26, amidst the first big storm of 2011. But School of Communication professor Rhonda Zaharna wasn't daunted by a few inches of snow, inviting her international public relations students to meet in a virtual classroom — on Facebook.

6. New Programs—SOC announced an innovative, new PhD program in communication, which allows students to earn their doctoral degrees in three years, while SIS launched its Global Scholars Program, a three-year bachelor of arts degree. A CAS three-year program in public health is accepting applications for 2012.

7. Learning from Leaders—Myriad high-profile guests, including Homeland Security secretary Janet Napolitano, R&B singer John Legend, and Egypt's ambassador to the United States, H.E. Sameh Shoukry, visited AU this year, sharing their experience and expertise. Meanwhile, a trio of students rubbed elbows with first lady Michelle Obama and Secretary of State Hillary Clinton at the 2011 International Woman of Courage Awards in March, while marketing students crafted their own flavor of ice cream for Ben & Jerry's.

8. KNOW/WONK—After debuting to great buzz last year, AU's branding campaign kept people talking, racking up a slew of accolades, including awards from the University Photographer's Association of America and University and College Designers Association, three gold medals from the Council for Advancement and Support of Education, and five Telly awards. Following a successful spring ad campaign — which included 44 placements at Reagan Airport Metro station — AU aired a TV ad in the mid-Atlantic market in October. February saw the opening of AU's distinctive, new admissions center, a 1,680-square-foot space where wannabe wonks and their families can get to know the university.

9. Campus Plan—In March, AU filed its 2011 campus plan, which includes a proposal to relocate the space-constrained Washington College of Law to the eight-acre Tenley campus, with the District of Columbia Zoning Commission. In May, after ongoing discussions with the community, city officials, and others, AU modified the plan, which calls for more student housing, faculty office and research spaces, athletic facilities, an admissions center, and alumni center.

10. Breaking News—Students were witness to history as news of Osama bin Laden's death reverberated among the AU community late on the evening of May 1, sparking spontaneous gatherings throughout campus and across the city.