On Campus
Europa World Plus Database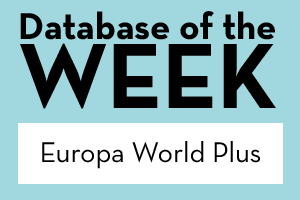 When did Qaddafi take charge of Libya and how and when did he rise to power? How did that nation evolve to its present state? What were the domestic and diplomatic policies of Libya under the Qaddafi regime? Need a basic introduction to Libya or another country along with reliable more scholarly background information? The Europa World Plus database is an excellent choice for basic country research and background information. It is essentially a scholarly encyclopedia for countries.
Despite the variation on Europe in the title, Europa World Plus covers the entire world with all countries and many dependencies, not just European nations. After you choose your country from an alphabetical drop-down list, Europa will give you such basic information as climate and location, but its greatest value is probably in the country profile section where you will find very useful and scholarly overviews for economic affairs and contemporary political history with subsections for domestic and foreign affairs. Europa also provides extensive directory for each country so that you can find, for instance, lists of high-ranking government officials and of the most important media outlets. Basic statistical information for each country is also included.
If you have questions about this or other databases, please contact a reference librarian.
Search Tip: Ignore the other databases advertised on the opening page. Go straight to the search box near the top of the page, enter a country name, and click go. Or look to the far left navigation box where you will see a link to "International Organizations," an excellent mini-encyclopedia of United Nations and other non-United Nations inter-governmental organizations.