On Campus
Leading-Edge Learning Spaces—the Geospatial Research Lab and Idea Space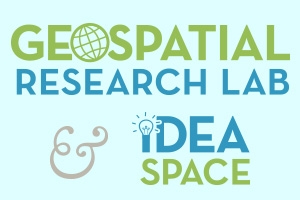 During Summer 2014 the Library was busy constructing a new space and team to enhance our support for faculty in the areas of geospatial research and instructional technology. The new lab is located in the Anderson Computer Complex. The room features 6 desktop computers, one 70 inch monitor, two 42 inch monitors and a projector with wireless projection capabilities. The tables and some walls feature dry erase paint, allowing users collaborate freely around the room.
On the green side of this space, the Geospatial Research Lab will support the research and teaching programs of the university using Geographic Information Systems (GIS) technologies and resources. The lab will help build and curate American University's spatial data collection and provide services in support of robust geospatial research. The lab will support AU scholars who work in fields that have not historically used geospatial analysis as they explore how geographic visualization can assist them in examining relationships and causalities, uncovering patterns, and making predictions.
The blue side is the Idea Space, an instructional technology training lab, which creates a designated space for faculty classroom technology training. Maintained by the University's Audio Visual (AV) Services group, the Idea Space will contain mock classroom arrangements, experimental classroom configurations, and a collection of new technologies allowing faculty to test out new devices or practice integrating new technology into the classroom. With this space, AV Services can also provide one-on-one training for faculty members specific to the University's classroom technology.
Join the grand opening celebration, tour the lab, and meet the coordinators on October 21, 2014 from 3–4:30pm. The lab is located in the Anderson Computer Complex, room B-16 and is available by appointment starting October 22, 2014. For GIS users contact Meagan Snow at msnow@american.edu. For instructional technology contact Katie Kassof at katiek@american.edu. For audio visual training contact av@american.edu.