On Campus
Audiovisual Features in the Graduate Research Center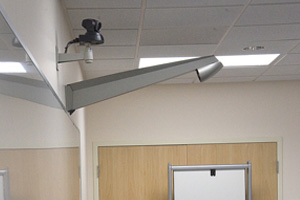 AU Library's Graduate Research Center (GRC) is loaded with useful features for enhancing your event, presentation, teaching session, or even study session. The GRC is open to the public Monday–Friday from 8:00am–8:00pm and Saturday and Sunday from 9:00am–8:00pm. At 8:00pm the space is restricted as study space for graduate students only, so they can have a quieter designated study space while the rest of the library is open to all students 24 hours a day, Sunday through Thursday. 
Are you a graduate student looking for study space? The GRC has two collaborative work rooms designed for group study, and one room which serves as both a quiet study space and a mini-lab with six PCs, which link to the GRC printer in the common area. In the two collaborative work rooms, students can connect a laptop to large mounted flat-panel LCD TVs which enables more convenient group work. These two rooms can be reserved in 3-hour blocks of time. If students experience any technical problems, a GRC desk attendant is available to answer questions and assist with AV setup. Another option for your study session is the GRC smart classroom, a larger room with several tables and two large wall-length white boards. To enhance students' use of the white board, a wall-mounted CopyCam enables students to take a snap shot of the work they have done and save it to an external drive via USB. To find out about availability of the smart classroom, check the sign posted outside of the room which details events scheduled to take place that day.
Are you a faculty or staff member in need of a place to hold a special talk, workshop, or presentation? The GRC smart classroom may be the perfect place. The room comfortably seats 32 people and is equipped with three LCD projectors which can project onto three different screens on three walls of the classroom. This enables audience members to see the screen from any seat in the room. The tables and chairs can be arranged however is most convenient for your event. DVD projection is also possible, and the room is wired for sound with 4 ceiling speakers throughout the room. This makes showing a quick YouTube or audio clip simple and convenient.  GRC wireless microphones are also available for use, and if you want to record your presentation via video or audio, there are two ceiling-mounted video cameras, and audio can be recorded in either WAV or MP3 format.
Are some of your event's participants unable to make it into town for your event? The smart classroom has video teleconferencing capabilities, so participants can join the presentation from wherever they are located. Video teleconferencing is a stable and powerful tool which can eliminate geographical barriers and really make your event special. The GRC requires two weeks' notice to allow sufficient time for coordination to ensure your event is a success. Reach out to a GRC staff member for advice on how you can use this technology to complement your event. An alternative to teleconferencing, and one that is simpler to use and requires less set up, is Skype. The advantages of Skype are portability, ease of use, and lack of set up time. With a webcam, computer, Skype account, and Internet access, you can connect via audio and video to other Skype users with ease. Once the technology is set up, video of the participant can be projected and their audio can be sent through the room speakers so everyone in the room can see and hear them speaking. 
The Graduate Research Commons is the main common area of the GRC which offers a mixture of comfortable, casual seating and tables for individual or quiet group study. Equipped with an LCD projector, a screen, and most of the capabilities offered by the smart classroom, this space serves as another option for your event or presentation. 
The GRC has a lot to offer, whether you are a student, faculty, or staff. Keep it in mind the next time you need to use technology in a dynamic space that can be modified to suit your needs. 
For more information about reserving these spaces, contact the GRC desk at (202) 885-3202 or email libevents@american.edu.

Visit the GRC website for more information.