On Campus
Personal Energy Meters Available at AU Library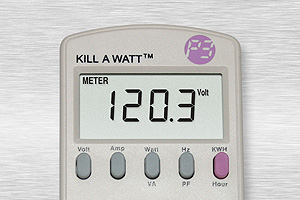 AU Library is now offering new equipment that will help users accurately track their energy usage. The library has twelve Kill A Watt personal energy meters available for loan at the Technology Services desk, located on the lower level of the library. A Kill A Watt meter is a small device that displays power usage and costs for individual devices and appliances in your home. The devices can be used to measure the energy draw of a variety of appliances, including cell phone chargers, televisions, air conditioning units, computers, and more. The meters measure instantaneous power consumed and energy use over time. They also have the ability to project power consumption and energy costs for up to one year.
The meters are very easy to use and take little time to set up: just unplug the appliance to be measured, plug the Kill A Watt into the outlet, and reconnect the appliance into the socket on the meter. The meter will start recording the energy use for the appliance. To calculate your electricity cost for the appliance, multiply its reading in kWh (kilowatt hours) by the cost per kWh on your utility bill - at AU, the cost is $0.14/kWh and the average for a residential customer in DC is $0.11/kWh). In order to get the most accurate reading, it is recommended that each appliance be measured over the course of a week. The Kill A Watt meters are available for two weeks at a time, allowing you to accurately measure energy use and calculate cost for two appliances. Additionally, two weeks gives you enough time to measure the impact of a change in behavior on the energy consumption of one appliance.
The Kill A Watt meters are available to borrow at the library's Technology Services desk for two weeks at a time, which allows energy use and cost measurement for two appliances and provides enough time to measure the impact of a change in behavior on the energy consumption of one appliance.
The goal of the Kill A Watt program is to increase awareness of current energy use patterns which will help members of the AU community be more efficient, saving both money and natural resources. Students, faculty, and staff will be able to identify how much energy certain behaviors use and how much they cost. The hope is to empower users to consider ways to reduce their energy use by identifying energy intensive behaviors. "I was really surprised by how much energy some of my appliances were using" says Ryan Ramirez, a current AU grad student. "I was especially surprised to learn how much energy some things, like my TV, used even while turned off."