On Campus
American University Library Celebrates All-American Weekend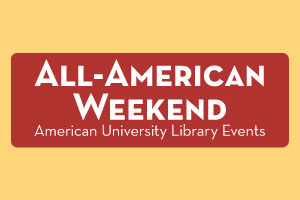 American University Library is joining in the festivities of All-American Weekend: An AU Celebration for Alumni and Families. Alumni, families, students, and community members are welcome to join us for a variety of events and activities to celebrate AU's history, explore the campus, and discover more about the current AU student experience.
LEARN ABOUT AU AND NEIGHBORHOOD HISTORY
AU Neighborhood Bus Tours
Friday, October 21, 11:30am–12:45pm; 1–2:15pm; 2:30–3:45pm
Register at Mary Graydon Center Welcome Center

Discover the historical background behind popular sites in the neighborhood surrounding AU with representatives from the American University Library. Space is limited and available on a first-come, first-served basis. Please note that tours fill up early. Sponsored by the Friends of American University Library.
Historical Walking Tours of Campus
Friday, October 21, 2–2:45pm; Saturday, October 22, 1:30–2:15pm; and 2:30–3:15pm
Depart from Mary Graydon Center lobby

Explore AU's past on this walking tour through campus with the University Archivist.

BRING THE FAMILY
Interwoven Connections: Connecting the Collection with the Community
Larissa Gerstel Annual Symposium
Saturday, October 22, 11am–12:30pm
Bender Library, Mud Box Café, lower level

Join the School of Education, Teaching & Health and the University Library for a conversation exploring university and community partnerships that support the development of children's critical literacy and engagement in social justice efforts. The symposium will feature an opening presentation by Dr. Maria Paula Ghiso, assistant professor of literacy education at Columbia University's Teachers College, followed by further discussion with Fayetteville State University professor and award-winning author Carole Boston Weatherford, KSB/BA '77, and Jessica Staff, CAS/BA '10, a graduate student at the University of Chicago's Urban Education Institute and a student teacher resident at Chicago's Legacy Charter School.
Families are welcome to bring their elementary aged children (ages 5–12) to the library's Curriculum Materials Center (Room 312) to participate in a QR code treasure hunt that will investigate the children's literature collections through the use of smart phone technology. The treasure hunt will be led by current AU students.
Children's Book Reading Featuring Carole Boston Weatherford, KSB/BA '77
Saturday, October 22, 2–3pm
Bender Library, Mud Box Café, lower level
Bring your Eagle-in-training for story time in Bender Library, led by award-winning author and Fayetteville State University professor Carole Boston Weatherford, KSB/BA '77. All are welcome; stories will be most appropriate for young children ages 3–9.
CHECK OUT AN EXHIBIT
AU in the 1970s: A Snapshot
Bender Library, first floor
Were you a student at AU in the 1970s? Are you curious at what campus was like back then? Check out the library's newest exhibit, AU in the 1970s: A Snapshot. Newspaper articles, photographs and publications from the University Archives depict the student scene at AU. Highlights of the exhibit include information on football at AU, examples of student activities ranging from charity fundraisers to political protests, and dramatic moments such as a plane hitting the radio tower. 
Highlights from the William F. Causey Collection
Bender Library, first floor 
American University Library is pleased to present a "sneak peek" of its newest acquisition, the William F. Causey Collection. A small display of books from this important donation is featured in the exhibit case in the first floor lobby. The William F. Causey Collection contains over 1900 titles dating from the 1790s to the present. The bulk of the collection (around 55%) was published in 1990 or after. Three percent of the titles were published prior to 1960. The collection consists of works of fiction and non-fiction—many of which are first editions, signed by the author, or inscribed to William F. Causey. Featured authors in the collection include Louis Auchincloss, Charles Dickens, Dick Francis, Sue Grafton, Graham Greene, John Grisham, Tony Hillerman, John LeCarré, Norman Mailer, Larry McMurtry, Patrick O'Brian, Joyce Carol Oates, Philip Roth, William Shakespeare, and John Updike. Topics covered include the Civil War and major figures such as Winston Churchill, Thomas Jefferson, John F. Kennedy, Robert F. Kennedy, Edward M. Kennedy, and Abraham Lincoln.
The Peace Corps: An Exhibit Celebrating the First Fifty Years
Bender Library, lower level
To honor American University's historic connections with the Peace Corps and to celebrate the fiftieth anniversary of the Peace Corps, the library has sponsored a special exhibit. The Peace Corps: An Exhibit Celebrating the First Fifty Years features the people and events that developed the important international outreach program of today. A portion of the exhibit is on loan from the University of Michigan. 
Early Printed Texts
Bender Library, third floor
American University Library is pleased to announce the opening of Special Collections' exhibit of early printed texts. The works of history, mathematics, religion, and rhetoric on display date from 1468 through 1500 and show the nature of incunabula, books printed before 1501. They feature hand-colored initials, unique bindings made of wood and leather, and wood cut illustrations. 
Visit the online schedule for the full listing of weekend events. Registration will be available on-site.