On Campus
Featured Database: Met Opera on Demand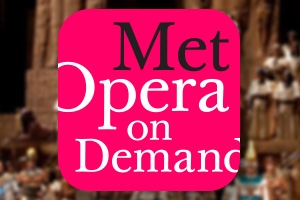 Whether you're a classical music buff looking for something new –or simply curious about opera, the AU Library has your daily dose of drama. From Aida to Die Zauberflöte, Met Opera on Demand offers an extensive catalog of more than 500 performances, all available to watch instantly. Since 2006, the Met has been filming select performances in high-definition (HD), meaning that some of the newer additions are available in this format. You'll be able to catch every detail of those glorious costumes and sets!
All of the Met Opera on Demand videos contain English subtitles, so you won't need to worry about missing any important details. Also, many recent HD additions to the Met Opera on Demand catalog contain subtitles in French, German, Italian, Portuguese, Russian, and Spanish.
See iconic performances such as Wagner's Ring Cycle, without leaving your apartment (or spending hundreds of dollars on a ticket!) This collection includes operatic interpretations of Shakespearean works, like Othello, Romeo and Juliet, and Macbeth, classic productions featuring the famous Luciano Pavarotti, and even contemporary works, such as Doctor Atomic.