On Campus
The Paperless Future?
Implications for Teaching and Research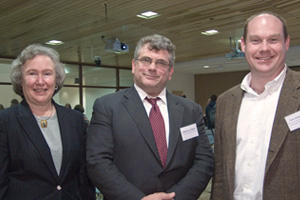 With so much knowledge being created, delivered or saved in electronic formats, one naturally wonders what impact this transformation from print to digital information means for scholars, teachers, students and librarians. How will we make sense of all this information? As University Librarian Bill Mayer noted in his introductory comments, "We are being overwhelmed by choice." In the future will there be a library building with physical books in it?

On Thursday November 16, the University Library hosted a thought-provoking program featuring two speakers who were well positioned to provide some insight into these important questions. Dr. Joan K Lippincott is the Associate Executive Director of the Coalition for Networked Information (CNI) and Dr. Tom Scheinfeldt is the Managing Director of the Center for History and New Media and Research Assistant Professor of History at George Mason University.

Dr. Lippincott, whose organization represents some 200 member organizations and is jointly sponsored by the Association of Research Libraries and EDUCAUSE, talked about emerging opportunities for teaching and research in the digital environment. Extensive digitization has offered unprecedented access to unique and specialized collections including international resources, but at the same time has generated an information overload. In this context, she argues, faculty and librarians should be ready to help students analyze a variety of information sources and engage in the creation of new information. Scholars have opportunities to work with materials off-site, to mine large data collections, and to combine information in various formats to create new forms of content. Librarians need to help researchers know what is available and to adjust their models of providing information. She closed by raising important questions for consideration: How much should libraries keep in print? Will purchase on demand become the model rather than collection development as we know it? Will students will develop highly personalized collections on their mobile devices?

Dr. Scheinfeldt provocatively titled his talk, Nobody cares about the library: how the digital world makes the library invisible—and visible—to scholars. Coming from the vantage point of a scholar who is at the nexus of a variety of research projects, he believes the library should be unobtrusive to the researcher. Tools should facilitate the gathering and location of information and provide access in ways that are seamless to the user. At the same time, the library should be creative and provide leadership in the digital realm. As he notes, the library may be invisible, but its content should be visible. Creating 9/11 archives, providing digital tools for researchers such as Zotero citation software, and supporting open access publishing fees are just some of the examples he cites as ways for libraries to be proactive.

The program was attended by 84 faculty, staff, visiting scholars, and students. You can view this thought-provoking programing via iTunesU.