On Campus
Building Partnerships with Technical Services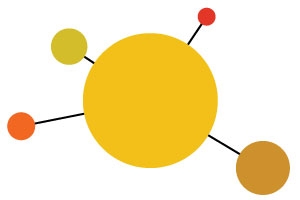 Did you know that the American University Library partners with other on-campus library collections in order to make their content more accessible to the university community? These partnerships support research and learning at AU by expanding each collection's presence as an educational resource. Each of these micro-libraries are part of our Campus Partner Collections.
What are Campus Partner Collections?
The AU Library currently supports four partner collections across campus: the Career Center Resource Library, the Center for Diversity and Inclusion (CDI) Gender and Sexuality Library, the Center for Language Exploration, Acquisition, and Research (CLEAR) Resource Collection, and the Visual Resource Center (VRC) Collection. These collections are all developed, housed and maintained by their respective departments, but incorporated into the library's catalog so that their materials are easy for AU students, faculty, and staff to find and access.
How do I find resources held by Partner Collections?
Collectively, the Campus Partner Collections hold more than 6000 books, periodicals, and DVDs for exclusive use by the AU community, and finding them is easy! Partner collection items are included by default in WRLC Catalog and SearchBox results, but can also be searched separately:
To search a particular collection in the WRLC Catalog, select "advanced search," and then "more limits." Scroll down in the "location" field, select the desired collection:
AU Clear
AU: CDI Gender and Sexuality Library
AU: Career Center Butler Pavilion
AU: Visual Resources Center, Katzen Arts Center
Click "Set Limits," and enter your search as usual.
Where are the Partner Collections located?
CDI—Center for Diversity and Inclusion Gender and Sexuality Library: Mary Graydon Rm 201-2.
CLEAR—Center for Language Exploration, Acquisition, and Research: Asbury Hall, North Wing, Basement.
Career Center Resource Library: Butler Pavilion, 5th floor.
VRC—Visual Resource Center Collection: Katzen Arts Center, Rm 142.
Can I borrow Campus Partner Collection materials?
Significant portions of the Career Center, CDI, and CLEAR collections all circulate. Loan policies and periods vary by collection, but the majority of circulating items can be borrowed for a week or more. Students, while you're visiting partner collections for check-out, be sure to check out other incredible services, including interview preparation (Career Center), engaging workshops and events (CDI), and personalized language coaching (CLEAR). Although books in the VRC's Kassalow Collection do not circulate, they are available for immediate research and general browsing.
How does the library support Campus Partner Collections?
The Library's Technical Services unit works with partner collections to catalog and physically process materials. We can handle materials in foreign languages, unconventional formats (e.g. equipment) and classify materials according to custom organizational schemes to suit the needs of your learning community. If desired, materials can be set to circulate from these remote locations for a variety of loan periods. On a regular basis, the library generates inventories and circulation reports to share with collection managers to inform their decision-making and help them maintain dynamic collections for their primary users.
How do I partner with the library?
Does your department maintain an in-house collection that you'd like to make more discoverable to the AU community? If so, please contact Robert Kelshian, Director of Access Services, (202) 885-3282, to discuss a potential library partnership.