On Campus
Secret Lives: Jackie Saavedra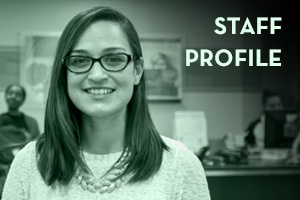 During the grey, chilly months of winter, many D.C. residents fantasize about sunnier locales with sandy beaches and palm trees. Sometimes we can lose sight of the charms our home has to offer, until we chat with an enthusiastic newcomer, seeing the city through fresh eyes. Let Circulation Services Specialist Jackie Saavedra, a former Miami resident who fell head over heels for D.C., take you on a tour of the nation's capital that will have you falling in love with the city all over again.
While visiting friends in the District a few years ago, Jackie was struck by the abundance of libraries, museums, and intellectual activities available here. Her friends brought her to the American History Museum, Jazz in the Garden at the National Gallery of Art, out for brunch and shopping at Eastern Market, and to see a band at the 9:30 Club. By the end of the weekend, she was hooked!
An avid book-lover, Jackie was already working on her Master of Science in Library and Information Studies at Florida State University in Tallahassee. After completing her degree, Jackie was awarded a two month internship at the National Anthropological Archives through the Smithsonian Institute. When her internship ended, she moved back to Miami for a short time before relocating to her new home and accepting a job with American University.
Jackie takes full advantage of living in a cultural hub, catching author talks at her neighborhood bookstore, Politics and Prose, seeing performances at the Kennedy Center and Shakespeare Theatre, and trying out different restaurants and cuisines. (She loves the pop-tarts at Ted's Bulletin and the ramen at Daikaya!) Some of her favorite activities include bringing a book to Meridian Hill Park on Sundays for some leisurely reading and a chance to enjoy the weekly drum circle, strolling through Georgetown to see the historic buildings, checking out shows at local art galleries, and visiting the National Museum of the American Indian, her favorite museum in town.
She also makes time to visit the United States Botanic Garden regularly during the winter. The steamy, warm environment reminds her of home. While Jackie is still getting used to winter weather, she thoroughly enjoys the occasional snow day. "It is so peaceful to stay in your warm apartment, sipping coffee and watching movies, while enjoying the view of a winter wonderland. There is something beautiful about the glare of the sun hitting a blanket of bright white snow." Experiencing the change in seasons is new for her and she appreciates seeing how the city changes throughout the year.
Although she misses her family, Jackie Skypes with them regularly and loves being able to explore D.C. with them when they visit. Her homesickness has also been eased by the friendliness she has encountered here, which surprised her initially. "D.C. residents are so welcoming. People here seem more willing to start up a conversation or lend a helping hand than I expected. Even though it is a busy city, D.C. has the neighborliness of a smaller town."
Her list of places to visit and things to do is always growing, but she is eager to visit Mt. Vernon and Dumbarton Oaks, see the upcoming exhibitions at the National Gallery of Art, and take a Ghost &Graveyard Tour of Old Town Alexandria. Jackie's excitement about D.C. is contagious and serves as an excellent reminder to step back and renew one's appreciation for local culture.
Book and Film Recommendations from Jackie:
1. House of Cards, Seasons 1 & 2
Although the original book and mini-series are set in the U.K.'s House of Commons, the story seems far more gripping and sinister in an American setting. Also, the time-lapse opening sequence shows D.C. in its most imposing light.
2. A Year in the Life of William Shakespeare by James Shapiro
This book takes a look at one of Shakespeare's most productive years, in which he wrote Henry V, Julius Caesar, As You Like It, and Hamlet. It's an ideal companion to a night out at the Folger Shakespeare Theatre or the Shakespeare Theatre Company.
3. Blankets by Craig Thompson
A blustery Wisconsin winter is the perfect backdrop to this graphic novel about adolescence and first love; the setting alone makes it a great read for a snow day.