On Campus
Secret Lives: Kathryn Braisted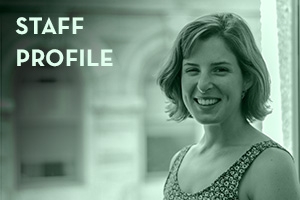 In her position as Library Operations Specialist, Kathryn Braisted helps run the Graduate Research Center, offers technological support to students and other patrons, maintains library equipment, and provides logistical support to campus staff by preparing for and setting up events. Her key role is ensuring the well-being of Library patrons, employees, and the Library collection. She and her colleagues do this by monitoring the conditions and activities inside the library, enforcing policies, providing information to Library visitors, and responding to emergency situations. Kathryn also works to promote sustainable and ecologically friendly practices throughout the Library as a member of the Green Team, an internal group that strives to reduce the carbon footprint at Bender Library and to encourage eco-conscious behavior in our visitors and employees. 
Kathryn describes her favorite part of her job as the collaborative and supportive environment. "It's exciting to come to work and feel happy to be here, knowing that I'm surrounded by intelligent, supportive, good people. Because the nature of my job means I run around to different departments all day long, I get to connect with coworkers all over the Library—and, as a result, I have such an appreciation for the work we do respectively and its place in furthering the Library's mission. It's really meaningful to see everyone using their strengths and doing what they're good at to work toward a common goal."
She brings that same positivity to her volunteer work as a food access activist. Since her sophomore year at American University, Kathryn has worked with local non-profit organizations focused on increasing food access within the DC Metro area. In her classes at AU, she learned about the issues facing local communities that did not have adequate access to healthy foods—and felt driven to be a part of the solution to this problem. She began her journey interning at the Crossroads Community Food Network in Takoma Park, MD, a non-profit organization focused on creating models for improving food access in at-risk communities and putting such a model into action in the Langley Park/Takoma Park neighborhoods. 
After that, Kathryn interned with DC Greens, working within the Mundo Verde Public Charter School in Mt. Pleasant to start a school garden. This experience was particularly rewarding, as Kathryn oversaw the project from its inception to completion, participating in the design process and the selection of entirely recycled building materials. She integrated the garden into the curriculum, teaching a weekly kindergarten nutrition lesson in Spanish. 
The joyfulness of this experience is evident in Kathryn's description of her internship with DC Greens: "I loved working with kids to build a school garden. What is salient about gardens is their ability to bridge the gap in access and offer a learning experience about where food comes from. In order for kids to understand the importance of including fruits and veggies in their diets, they need to understand how nutrition impacts their bodies." Kathryn encourages anyone who wants to learn more about the power of community gardens to watch this "incredible TED talk from a man who turned the grass in sidewalk medians into neighborhood edible gardens!"
Kathryn continues to work with Crossroads Community Food Network, volunteering every Wednesday at their Crossroads Farmer's Market in Langley Park. She describes this weekly event featuring local vendors, farmers, and musical performers as an "extension of the neighborhood that empowers the community with knowledge and resources. Crossroads is so special because they are invested in learning from the community. In fact, this was the first market in Maryland to participate in a double voucher program, matching the values of WIC checks and food stamps with market dollars, in order to double their value."
She encourages anyone who would like to get involved with community food system activism to start by looking at Common Good City Farm, an organization dedicated to education and food access within Washington, DC. In addition to the many excellent urban agriculture groups in the area, Kathryn also mentions that farmer's markets can always use more market volunteers to assist with set-up and other essential tasks. She loves being a part of a "campus where people are driven by passion and activism" and hopes to share her enthusiasm with the AU community.
Book Recommendations from Kathryn:
The Omnivore's Dilemma by Michael Pollan (GT2850 .P65 2006)
"It is difficult to talk food systems without mentioning this groundbreaking book."
Unbowed: A Memoir by Wangari Maathai (SB63.M22 A3 2006).
"She was an environmentalist, the first African woman to win the Nobel Peace Prize for her work in environmental sustainability. Hers is a great story of the kind of powerful and significant change that communities can generate around any social issue."