On Campus
Secret Lives: Sam Reggio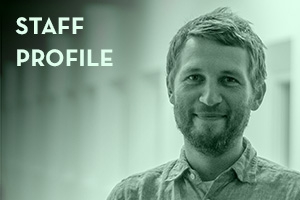 As a music buff and record collector, Sam Reggio feels right at home in his role as Music Library Coordinator. Sam's enthusiasm for both libraries and music is contagious—especially when he articulates his sense of them as a means of connecting people. With a background in literature and education, Sam was no stranger to libraries, but their value as community centers did not occur to him until after college. While working at an education non-profit, he was struck by the need for third spaces for adolescents—accessible, safe locations beyond school and home.
Sam continued to work with young people, from 6-year-olds to teens, as a part of his work in the Japan Exchange and Teaching (JET) Program. Living in the Kōchi Prefecture of Japan for three years was a transformative experience, leaving Sam with a deeper appreciation of the importance of community and the need to provide civic spaces for "kids at that in-between age—places where they are wanted and valued."
This attraction to service led Sam back to libraries. After returning to the US, he enrolled in the Library and Information Science program at the Catholic University of America and completed his MLS this past spring. At the Music Library, Sam finds his work most fulfilling when he is helping others, connecting students and faculty with the resources they need, and having the opportunity to relate to users through their shared passion for music.
With a "small" personal collection of about 1,000 records, Sam shares music with a group of friends through their any-genre-goes Record Geek Night , which he describes as "like a book club, but for records." He notes the resurging popularity of vinyl records, a means of interacting with music that is a "tactile, fun way to engage with something you love and makes the ritual of listening to music more profound."
Sam keeps up with new music through record reviews, interviews with performers, and suggestions from friends. He also enjoys taking part in DC's live music scene. Still interested in the role of venues as a third space, Sam praises the all-ages shows offered at the Black Cat on 14th Street NW: "They are doing it right, for all the right reasons—creating community." He also has a great appreciation for house shows, "the best way to see innovative and unknown performers in DC."
Album Recommendations from Sam:
The Knife, Shaking the Habitual (CD 10272)
"This Swedish electronic duo is whole process oriented, putting ideals into practice and even making their own instruments. Their noisy and abrasive, off-kilter and wild sound explores the concept of protest music for the modern era."
Swans, The Seer (CD 10274)
"An American band from New York, this group has been together since the 80s (albeit with a long hiatus). Their music is intense, noisy, and repetitive, blending elements of rock and blues."