On Campus
Concrete Greens: Urban Agriculture and Food Security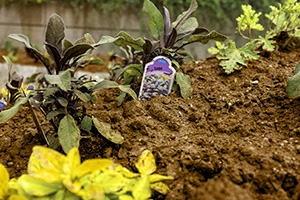 While AU's lush greenery already serves as a feast for the eyes, on April 15, Campus Beautification Day, the Library Green Team began cultivating a new garden plot near the SIS building for plants that are not only ornamental, but also edible.
Though gardening and urban life might seem somewhat antithetical to one other, urban agriculture has been on the rise in many major US cities. This urban farming, in addition to providing coveted glimpses of green amongst concrete city structures, also works to alleviate the detrimental health effects of food insecurity in economically disadvantaged urban areas.
Urban agriculture, specifically the cultivation of edible gardens, offers a new way of empowering communities with limited access to viable food options. Community garden advocate Ron Finley, in a 2013 Ted.com talk, offered inspirational words about his work planting gardens in the food desert of South Central Los Angeles. Commenting on the powerful yield of the edible garden, Finley proposed that "[t]o change the community, you have to change the composition of the soil. We [people] are the soil. Gardening is the most therapeutic and defiant act you can do. Especially in the inner city."
Finley's gardens crop up in abandoned lots, traffic medians, along the curbs and his work confronts the incongruous conceptions of urbanity and food deserts. According to the USDA, food deserts are defined as "urban neighborhoods and rural towns without ready access to fresh, healthy, and affordable food. Instead of supermarkets and grocery stores, these communities may have no food access or are served only by fast food restaurants and convenience stores that offer few healthy, affordable food options. The lack of access contributes to a poor diet and can lead to higher levels of obesity and other diet-related diseases, such as diabetes and heart disease." Finley succinctly summarizes the detrimental impact of food insecurity in areas like South Central Los Angeles where, in his estimation, "the drive-thrus are killing more people than the drive-bys."
Issues of food security extend far beyond the city limits of Los Angeles as a persistent national concern. Even in Washington, DC, there is startling disparity concerning food availability in the nation's capital. According to the USDA's 2013 report on household food security in the United States:
13.4 percent of all households in the District of Columbia were food insecure in 2011-2013. That is an increase of 1.4 percent from 2010-2013 when 12 percent of all households were considered to be food insecure.
Among the 13.4 percent of District of Columbia households struggling with hunger, 5.2 percent were considered to have "very low food security," a 0.7 percent increase since 2010-2012. People that fall into this USDA category had more severe problems, experiencing deeper hunger and cutting back or skipping meals on a more frequent basis for both adults and children.
Combatting these harsh realities is not easy, but many of DC's residents are working to improve food security in impoverished parts of the nation's capital. One such resident is Gail Taylor, a policy activist profiled in a September 2014 Washington Post article. Taylor, with the aid of American University's free law clinic and council member David Grosso, drafted a bill restructuring city tax regulations that currently hamper urban farmers' ability to sustain economically viable businesses.
Other organizations, such as the nonprofit DC Greens, are working to change the landscape itself by facilitating partnerships and empowering existing actors and residents to manage green solutions for at-risk communities. While community gardens have an established historical precedent in urban areas, these programs also highlight informal household food growing that uses private property such as back yards, front yards, pots on balconies, and fire escapes to grow edible produce.
American University's emphasis on green practices echoes the continued national interest in urban gardening, and the University offers many ways to become involved on campus. Towards the rear of AU's campus near the athletic fields is a pre-existing community garden where students can learn the ins and outs of urban gardening. In recent years, the Community Garden has donated extra food to a local food bank while simultaneously providing the educational tools necessary to spread urban garden practices by bringing 70 middle school students to AU to teach them about gardening and sustainability.
The Library Green Team hopes that cultivating this small plot simultaneously encourages students to consider issues of food sustainability in areas like DC where there is always room for another gardener to get a bit dirty in the interest of improving food security.
Interested in learning more about urban gardening and other related issues? Check out these materials and more in the Library's collections:
A Community of Gardeners
This documentary by Cintia Cabib explores the vital role of seven urban community gardens as sources of fresh, nutritious food, outdoor classrooms, places of healing, links to immigrants' native countries, centers of social interaction, and oases of beauty and calm in inner-city neighborhoods.
"The World's First Rooftop Farm: Mohamed Hage"
This episode of The Green Interview features Mohamed Hage, who is turning the flat rooftops of Montreal's industrial buildings into fertile farms that feed thousands-and he's making a profit in the process. Hage, a self-described "technology geek" turned urban farmer, explains the genesis and genius of Lufa Farms.
City Bountiful: A Century of Community Gardening in America by Laura J. Lawson
In this critical history of community gardening in America, the most comprehensive review of the greening of urban communities to date, Laura J. Lawson documents the evolution of urban garden programs in the United States.