On Campus
Spotlight on VHS Collection Preservation in the AU Library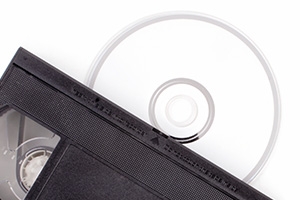 The AU Library's Media Services department was born out of the invention of the consumer-friendly videotape and the sudden availability of recordings for instruction. This filmmaker-friendly technology was revolutionary, as it triggered a boom in creative production worldwide and a new market for established television producers and film studios.
Between the early 1980s and early 2000s, AU Library's Media Services department built a collection of 8,000 VHS titles with an emphasis on supporting classroom teaching. The collection includes documentaries, theatrical performances, C-SPAN coverage, feature films, television series, and other genres. The popularity of the VHS format declined with the invention of the DVD and by the early 2000s the format was completely antiquated. It is now facing a crisis: of the thousands of VHS tapes acquired at AU, about 30% of the collection has never been released on DVD or in streaming format. To make matters worse, industry experts estimate that the various forces converging against the VHS format (age of tapes, irreparable and irreplaceable equipment) will make it essentially inaccessible by 2025.
So what is being done about the VHS tape crisis at AU?
Following the guidelines described in Section 108 of the U.S. Copyright law, Media Librarian Chris Lewis, Visual Media Collections Coordinator Molly Hubbs, and student assistant Sophie Brichta have been poring through the VHS collection to identify the distribution status of each item and digitizing titles that are at highest risk of being lost in the near future. For VHS titles available on DVD, the tapes are sent to storage and the DVD is added to our queue of items to purchase. If a VHS recording continues to be requested for teaching or research and no DVD or streaming version is available, then the tape is digitized and made available for onsite use.
Ms. Hubbs has assembled a video digitization workstation to ensure that high production standards are met throughout the preservation workflow. She processes video recordings with quality control tools and saves files in a high resolution format. She also creates backups of all files in order to ameliorate the risk of digital rot and other potential disasters. For each digitized file, a DVD "access copy" is also created, cataloged, and made available for teaching and research needs. After digitization, VHS originals are sent to storage.
Campus VHS recordings are equally at risk
The abundance of on-campus recordings of commencements, guest lectures, sporting events, and other historical moments has not been overlooked. Ms. Hubbs has been working with the University Archives and various departments on campus to collect and digitize video materials unique to American University's history. Over 200 items have been inventoried from the Audio Visual department's collection of commencement and convocation ceremonies and dozens have already been digitized and preserved. Some of these vintage films will be added to an AU YouTube channel. Outreach has begun across campus to locate neglected and forgotten VHS recordings. If you have tapes or know any faculty, staff members, or alumni with a collection of unique campus materials on VHS, ¾" tape, or even film, please contact us at mhubbs@american.edu or clewis@american.edu and they will work with you to preserve that material.
More about the crisis of VHS and other magnetic tape formats
Though VHS tape is a relatively stable medium, the playback equipment is less reliable, rubber and nylon parts are deteriorating and replacement parts are scarce. The retirement of VHS technicians and lack of a viable market and training opportunities for videotape technicians further exacerbates the problem. There are still a few manufacturers of VHS playback equipment, but those players are usually squeezed into VHS/DVD combo units, and the quality of the parts is generally of a lower consumer grade suitable for a short operational life. The likelihood of an older tape getting stuck and damaged in a perfectly clean recently manufactured player is considerable. In a word, the VHS tape is all but obsolete.
So if a VHS tape hasn't been released on DVD, is it really of any interest and is it worth saving?
You might be surprised by the myriad of reasons that recordings go out of release. Commercial profitability is the most obvious and that pertains primarily to feature films and other mass market releases where a studio or television network still owns the rights. More common are the problems endemic to educational distributors. Many educational distributors have gone out of business and their entire inventories have slipped into limbo. Other instances include, distribution rights to a video that didn't get renewed, purposely or neglectfully, or issues such as music licensing or a legal dispute preventing a title from being re-released. In some cases, such as with major television networks, the distributor discontinued selling VHS or DVD copies of their content altogether.
And yet the demand for some of this content for teaching needs remains high. Often, a given documentary has come to be regarded as a classic or provides such a powerful illustration of a concept or topic that nothing released since compares to the original. Here at AU, along with a growing number of institutions around the globe, we preserve these essential programs before our window of opportunity to save them closes.
About Preservation Week from the American Library Association website:
"Preservation Week (April 26-May 2) was created in 2010 because some 630 million items in collecting institutions require immediate attention and care. Eighty percent of these institutions have no paid staff assigned responsibility for collections care; 22 percent have no collections care personnel at all. Some 2.6 billion items are not protected by an emergency plan. As natural disasters of recent years have taught us, these resources are in jeopardy should a disaster strike. Personal, family, and community collections are equally at risk."