On Campus
Walk into a Tour/Class/Workshop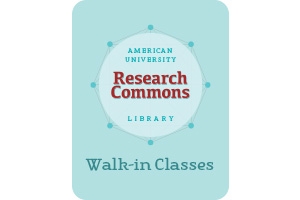 AU Library and our campus partners are offering a variety of free tours, classes, and workshops to enable student success and effectiveness. You can learn to be a better researcher, reader, media producer, and time manager. Students who attend these workshops will be eligible to enter the library's annual prize drawing which includes Smartrip cards, a sheep for a needy family donated in your name, and a mystery grand prize. See the full schedule. 
Classes you might want to take advantage of include an introduction to library research, improving time management, media software use, how to do a literature review, and EndNote citation software. Some of the classes, including Effective Reading, Overcoming Procrastination, and Time Management will be taught by the library's campus partner, the Academic Support & Access Center.
Faculty, especially pre-tenure faculty, will also want to take advantage of classes on how to measure their research impact. You can learn about the metrics and tools that are commonly used to measure the impact of scholarly research, along with new and emerging tools. This class is especially useful for pre-tenure faculty wishing to put together a file for action or for other faculty wishing to track their scholarly impact. 
If you are planning to make media productions of your own, you can plan to attend one of many free sessions in the New Media Center. Photoshop, Final Cut Pro, iMovie, podcasting, and GarageBand are just some of the skills you can acquire in workshops offered throughout the semester. Many workshops are offered at both the basic and intermediate levels. See the complete New Media Center schedule for sessions on video and other productions.