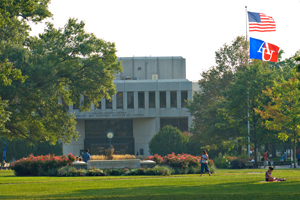 Photo credit: Jeff Watts.
We are pleased to continue providing AU Alumni with library services. In addition to lifetime borrowing privileges, there are a host of other benefits you can get by staying in touch with your University Library.
Establishing Your Alumni Account
To sign up for an alumni account, please bring government issued photo identification to the Borrowing Desk. Your card is not transferable. Alumni are required to show a photo ID, in addition to their library card, for borrowing materials from the Library and for gaining access to the internet. Additionally, a photo ID is required for all borrowers requesting materials from Reserves, Media Services, or the Music Library, for in-library use. There is a $2.00 fee for replacement cards.
Borrowing Privileges:
Your alumni borrowing card lets you borrow books from the AU Library collection for four weeks. Consortium borrowing is not available to alumni; however, interlibrary loan is available at a rate of $25.00 per item.
Please review: Eligibility, General Loan Policies, Library Account (MyALADIN)/Signing onto ALADIN, Renewal, Overdue fines and lost item fees and blocks, and FAQs, Links, Other Info, and Other Borrowing Desk Information and Services on the on the Borrowing and Access Services page.
On-Site Services
Alumni may use the Bender Library until midnight or until closing time on the days the library closes before midnight. Alumni also have access to professional assistance from reference librarians and subject specialists. Alumni are welcome to use all library services on-site, including access to online journals and databases. To access these electronic resources and the Internet, you will need to show your Alumni Borrowing Card at the Borrowing Desk for a daily-use login. Printing and photocopying is available at public machines with a print/copy card.

Off-Site Services
Due to licensing issues, the full list of electronic databases available to currently enrolled students is not accessible off-site to alumni. However, from your home or office computer you may take advantage of access to the ALADIN Catalog and personal account services through MyALADIN. Furthermore, the Library does provide alumni access to five databases: JSTOR, Academic Search Alumni Edition (an electronic database specifically for alumni), Project Muse, GreenFile (indexing and abstracting resource covering aspects of human impact to the environment), and Current Digest of the Post-Soviet Press.
Access to these databases is available through the Library Resources section of the Alumni Association Online Community. Click here to sign in and access these databases or to register.
Special Collections
Access to Special Collections is available by appointment from 9:00am to 5:00pm, Monday through Friday. Special Collections cover a range of topics from the arts and sciences. Incunabula, rare books, first editions of literary works, personal papers for widely known figures, and working papers of organizations provide unique research opportunities for students and scholars alike.
Other Ways to Be Involved
We welcome you to consider joining the Friends of the Library to show your support. The Friends regularly host special events, exhibits, and feature articles in the BiblioNet newsletter.