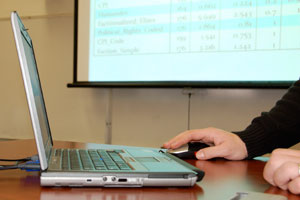 The technology services desk has several types of circulating technology, including:
Laptops
Headphones
Dell Power Cords

Mac VGA Adapters
Laptop Locks
Items may be borrowed for four hours by current American University students, faculty and staff.
Items may leave the library, but should not be left unattended.
If no one is waiting for an item, they may be renewed in person or by sending an email to AUTechServices@gmail.com.
Overdue items cannot be renewed online or by phone and must be renewed in person.

Fines will be charged for items that are returned late at the rate of $3.00 per hour, prorated to $0.05 per minute.
Replacement fees will be charged for items lost or stolen while checked out.
Overnight Laptop Borrowing:
Patrons may use a laptop overnight Sunday through Thursday when the library is open 24 hours.
Individuals wishing to borrow a laptop overnight must stipulate this at checkout.
Overnight laptops will be loaned from the technology services desk starting at 8pm.
Laptops checked out overnight must be returned to the Information Desk the next morning by 8AM.
Items checked out overnight will not be renewed online or by phone the following morning. These items can only be renewed in person at the Tech Services Desk when it opens at 8AM.

To renew a laptop online during technology services business hours, please send an email to: AUTechServices@gmail.com.
Nooks and Kindles!
The technology services desk also has four nooks and four kindles to circulate. Each comes with several fiction titles preloaded. The loan period is two weeks, with late fees at $1 per day. There is often a wait list for these items, so stop by the desk today to check out availability!
Energy Meters!
Thanks to a great partnership with the Office of Sustainability, the technology services desk has Kill-A-Watt meters to check out! The meters are used to measure energy draw for household appliances and electronics. After evaluating the efficiency of items in your home, you can determine what draws the most power. By making small adjustments, such as changing settings and unplugging items when not in use, you can save money on your electric bill. You also help the environment by reducing energy consumption. The meters are available for a two-week loan period, and late fees are $1 per day. More information is available here.