How to Delete Old Courses From Your Blackboard Site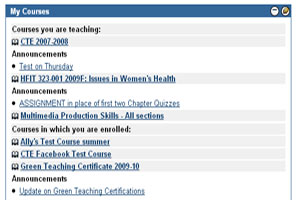 One nice thing is that there is a simple way to remove them from the list that shows up on your login screen. In order to remove the courses from you list please follow these directions:
1) Login to Blackboard.
2) Once you login, click on the little pencil icon in the upper right hand corner of the "My Courses"
3) Uncheck "Show Course" and "Show Announcements" for any class that you wish removed.
4) Click "Submit" in the lower right hand corner of the screen.
If you still see announcements from courses you have removed, then click on the pencil icon in the "Announcements" section and select "No" under "Show Permanent Announcements".