Lonnie Bunch, College of Arts and Sciences
Commencement Speaker
Text of Speech (As Delivered)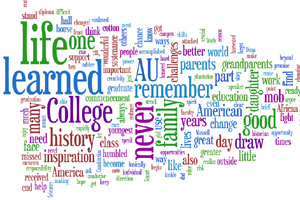 A "word cloud" representation of Lonnie Bunch's commencement address.
I can't tell you what this means to me. As Dean Mussell said, this is my life coming full circle. But let's focus on you, because in a way, this is a grand and glorious day.  It is a day that I must begin by celebrating the class of 2009.

I must admit I'm a little envious. You get to have this graduation in this great hall. I got mine in Constitution Hall, but I got lost, and couldn't find my way, and ultimately, my parents missed half of the graduation—so this is pretty good. 

Usually there's no greater risk to brevity than giving a historian, a microphone, and an audience. But not today, because today, I am humbled by this honor that you have bestowed on me. And I candidly promise to follow the advice of my youngest daughter, who said "Whatever you do dad, be brief." Smart kid.

Any commencement speaker would do well to note the words of Abraham Lincoln when he gave the Gettysburg Address. He said, "The world will little note nor long remember what we say here."

He's right. We rarely remember what a commencement speaker says. But what I do hope that you remember, is what you all learned here. What you accomplished here. And I hope more than anything else, that you will remember and cherish the relationships that were born here.

I am so honored and so humbled to be part of the commencement of the College of Arts and Sciences. I am honored because of the respect I have for President Kerwin and Dean Mussell, and for the faculty of this wonderful college.

I am humbled because it's been 35 years to the day, when I was sitting in Constitution Hall, waiting for somebody to speak so I could grab my diploma and begin my life as an adult.

I envy you because you've had this wonderful opportunity to immerse yourself in a nurturing environment that is conducive to learning, but is conducive to helping you find who you are.  My youngest daughter, the one who said be brief, said to me, "So why did they ask you to speak?"

I think in part I'm here because I want to ease the angst of many parents. I stand before you as a graduate of the College of Arts and Sciences with a degree in history, and I got a job.

But I am also pleased to be here because college, a college like this, has been essential to the transformation of my family.

My paternal grandparents were sharecroppers on the old Robertson plantation outside of Raleigh, North Carolina: a plantation where their parents and their grandparents were enslaved for generations. For 27 years of their lives, my grandparents picked cotton, chopped peanuts, and harvested cotton, harvested corn.

But something inside them helped them to believe that despite the racial attitudes of the early twentieth century, that their hands were suited for more than picking cotton or washing people's clothing. Thanks to a college like AU, they were able to attend classes at night until they were able to graduate 11 years later. Thanks to a college like AU, they were given a chance, and they never forgot the benefits of education, nor did they forget the promise of American life.

They not only remade themselves, but they remade and transformed our entire family. And I'm proud to say that my oldest daughter has suddenly become—has just become—the fourth generation of my family to graduate college.

But this is more than a story about my family. It raises the issue of the power of the individual to affect change—the opportunity to have important impacts on one's family and on the broader society. Thus, one of the most important lessons I have learned is the need to think beyond yourself. To realize that as college educated adults you should remember to fight the good fight. To remember that there is a greater good that transcends individual gain or personal achievement.

I am always struck by the words of Carter G. Woodson—the man that created Negro History Week, Black History Month that many of you have celebrated since elementary school. At the end of his busy life, a reporter asked him, "Why do you do the work you do?" And he said simply, "I do history for one reason, and one reason only: to make America better."  

So I would argue, the burden, the challenge for the class of 2009, is to find your own good fight. Is to find ways that you can make America better. To realize that your skills, your creativity, and your educational achievements are needed to work for the greater good. 

I am struck by a dear friend of mine who recently passed, Studs Terkel, the great oral historian from Chicago. And at the end of his life, Studs, who never missed a picket, never missed a chance to struggle against the big guys said to me, "You know Lonnie, I can't hear anymore, can't see much, can't stand up, so all I ask you to do is point me in the direction where I can do good."

That's what I think you want to keep in mind. Always point yourself in the direction where you can do good.

Because as your life unfolds, as the years zip by, you'll also have to learn how to embrace ambiguity and change.  I always believed that once I graduated college, all the clouds would part, my future would be clear in front of me, and that calm certainty would be the lot of my life.

Wrong. Trust me when I tell you that your lives will unfold in dramatic and small ways that you could never conceive. I've learned that the only constant is change. I could have never imagined that my career would take me from Washington to Massachusetts to California to Illinois and back to Washington. Or as my youngest daughter says, "You can't keep a job dad."

I could never imagine that I would be part of a team to build a national museum on the Mall. A museum that will allow us all to use African American culture as a lens to understand what it means to be an American.

You too, will face surprising challenges and opportunities. You too, will face disappointment and failure. You too, will be wracked by the necessity of making difficult choices. And you too, will be startled by the unexpected. But it is crucial that you embrace and, in fact, revel in change. Because your lives will require a nimbleness that would have been unimaginable for your grandparents.

And I would argue to you that the third piece of advice I can give you is that no one is an island. Now by that, at the risk of sounding like a bad 1970s record, I mean that at times the challenges will seem too great to bear and that you will need to draw support and sustenance from others.

This need to depend on others became clear to me at an event that I've never talked about before. I grew up in a town where there were very few African Americans. And one day I was in a part of town that I did not know.  And I was about 13 or 14. And I was attacked by a mob of white teenagers. They attacked me with bats and with rocks. I remember running from this taunting mob, that I was terrified.

I ran until I could run no more, and I ran up a driveway and basically collapsed on the front lawn of a house I didn't know.  Just as the mob came up the drive way to basically inflict great pain, a little girl, a little blonde girl came out of the house and said, "This is my house. This is my property. Get off this land." Not to me, but to the mob.

She stood between me and the mob and rescued me from many, many things. And what I learned from that moment, I learned much about how help comes from unlikely places. I learned about the generosity of spirit. I learned about race, and I learned about goodwill.

I will never forget what she did—though I have never seen her again in my life. The incident changed me, because not only did it stimulate my interest in history—to help me understand why race mattered—but it taught me never to generalize, never to pigeonhole people based on generalizations.

So no matter how fast one runs or how smart one is, there will be many times when we need to draw that sustenance, inspiration, and guidance from others. It is crucial that that well of sustenance—that you can draw from—comes from many of the people you have met here.

That support, that inspiration comes from the faculty, the staff, and the students that you've encountered here at American U. It is true that the friends that you made here and the professors that you have learned from, will be with you in person and in spirit the rest of your lives.

Do not be afraid to reach out or reflect on your time at American U. Because this is the experience that will help you navigate even the most difficult of times of your life.

You should—as I often do—remember to draw strength from your parents and from your own family. As I have gotten older, I am amazed how much smarter my parents have become. It's the lucky son or daughter who realizes what a resource our families are as we jump into the waters of the world beyond AU. 

Every family has a story of hard work, of resiliency, of love, of luck that can inspire and support, if only we look inside. But for me, that inspiration also comes from the power of history. That is what I learned at AU—the importance of history.

I learned to draw inspiration from the Irish immigrant who left all that she knew to take a chance for a better life in America. I learned from AU to draw inspiration from that enslaved African who refused to let the field break her and who found ways to preserve her family, her humanity, and her humor.

I learned from AU to be in awe of the industrial worker who spent years on the assembly line so that his children would not. And I learned from AU to be moved by the people who braved fire hoses and dogs in order to demand simple justice during the Civil Rights movement.

It is because of the education that I received—and that you received—at AU, that you are ready to face the challenges of the rapidly changing world outside of this campus.

It is because of the education that you received at AU, that you are ready to face the rapidly changing world outside of this campus.

So let me end as I began—by congratulating this wonderful class of 2009. You're even more cool than the class of 1974, but that's okay.

But with this diploma comes the responsibility to use your skills, to use your creativity, to use your education to live a good life. And to contribute to making America even better.  

But you also have the responsibility to acknowledge and revel in this day. To enjoy what you've accomplished. Because you have worked hard. And you have changed. And you are ready for the challenges and opportunities that stand before you.

So I wish you a life of joy, a life of peace, a life of surprise, a life of important work, and a life of wonder.

Enjoy the ride. Thank you.

Bunch was one of five commencement speakers. Click here to access transcripts and watch video of all commencement speeches.