Achievements
President Kerwin Named a Top Irish Educator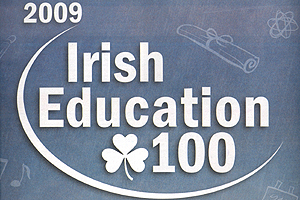 The Irish eyes are smiling on American University. President Neil Kerwin was named to the inaugural Irish Education 100 list comprised of the most influential Irish educators at colleges and universities throughout the United States and Canada.  

The list, released by the Irish Voice newspaper earlier this month, includes presidents, professors, trustees and administrators. In addition to Kerwin, James McCarthy, provost at Baruch College, City University of Manhattan, John Sexton, president of New York University, and Meghan O'Sullivan, professor at the John F. Kennedy School of Government at Harvard University, are among the notable educators named to this prestigious list.

Kerwin grew up in an Irish-American household in Waterbury, Connecticut and attended American University where he earned his bachelor's degree. After attending the University of Rhode Island (MA in political science) and Johns Hopkins University (PhD in political science) Kerwin returned to his alma mater as a faculty member in 1975. After serving as dean of the School of Public Affairs and university provost, he became AU's 14th president and first alumnus president in the school's history in September 2007.