Athletics
Two Eagles Earn All-American Status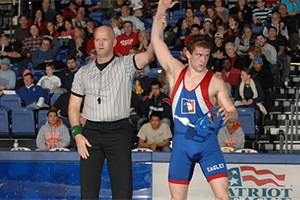 All-American Kyle Borshoff took seventh place at the 2009 NCAA Wrestling Championships with an impressive 9-1 major decision victory Saturday morning at the Scottrade Center in St. Louis, Mo. Borshoff earned his first All-America honor with the seventh-place finish and becomes the AU wrestling team's eighth All-American in the last five years. Fellow All-American Mike Cannon fell in his final match of the weekend, 13-3, to take eighth place and becomes AU's second two-time All-American.
Borshoff won his seventh-place match by major decision over Oregon State's Heinrich Barnes, 9-1. Borshoff scored first with a throw in the first period and turned Barnes using a half-nelson for three back points. Borshoff scored again on a takedown at the edge of the mat in the second period and heading into the third period held a 7-1 lead. The junior tacked on one point for an escape in the third and with 3:10 of riding time advantage won the bout by major decision, 9-1.
Borshoff concludes his season as American's eighth All-American with an overall record of 33-7. Borshoff's career record now stands at 73-31 and his 73 wins are the 11th most in program history.
Cannon fell to Virginia's Christopher Henrich, 13-3, to place eighth overall at the championships. Cannon went behind early as Henrich scored a takedown and two back points in the first period and trailed 4-2 to begin the second. Henrich improved his lead to 7-2 with an escape and takedown in the second period and then hit Cannon for three back points to take a 10-2 lead. Henrich scored once more in the third period and with riding time advantage took the match, 13-3.  
Cannon became AU's second two-time All-American with his eighth place showing and finishes his year with a 33-3 overall record. Cannon's career record of 92-16 is fourth best all-time at AU.
American has earned eight All-America honors in the last five years under head coach Mark Cody with five different wrestlers garnering the prestigious award. The Eagles have crowned two All-Americans in each of the last three years and at least one each year since 2005.
AU finished the tournament tied for 29th place with 19.5 total points. The Eagles have finished in the top-30 in each of the last four years. AU finished fourth among EIWA teams at the NCAA Championships and earned the second most All-America honors among the conference at the tournament.