Athletics
Mercer Named to AP All-American Team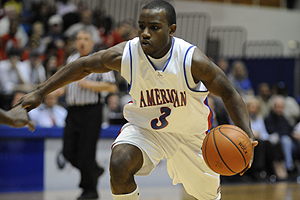 Derrick Mercer has been named an Associated Press men's basketball All-America honorable mention, the association recently announced. Mercer guided American to its second-consecutive NCAA Tournament appearance this season and second straight Patriot League Championship.
Mercer led American to an overall record of 24-8 and was named the Patriot League Player of the Year. The senior averaged 11.7 ppg with a team-high 4.4 apg and 1.2 steals. Mercer also earned First Team All-Patriot League honors and was named to the Patriot League All-Tournament Team.
Mercer became the first student-athlete in PL history to record 1,200 points and 500 assists and is only the fifth student-athlete to earn both the conference's player and rookie of the year awards in his career. Mercer finished this season ranked 20th all-time in scoring at AU with 1,285 points and is third all-time in the PL with 524 assists. Mercer also owns school records for career appearances and career starts with 120 and 118, respectively.