Arts and Culture
Screening Marks 75th Anniversary of Amazing Arctic Ocean Rescue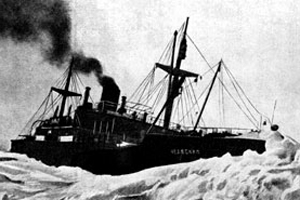 A ship becomes trapped in the ice of the Arctic Ocean. The passengers and crew are forced to abandon the vessel and fend for themselves for two months before 104 people are rescued.

It sounds like the plot of a 1970s disaster movie, but it actually happened in the 1930s when Dr. Otto Schmidt led the ill-fated expedition of the Soviet ship the Chelyuskin on a quest to find a northeast passage to the Pacific.

American University and the Embassy of the Russian Federation will honor the 75th anniversary of the dramatic voyage and rescue by hosting a screening of the documentary film The Chelyskin Adventure at the Harold and Sylvia Greenberg Theatre at 4 p.m. Sunday, April 19. 

Tickets are $10 for general admission and $5 for AU community members and senior citizens. Students presenting ID are admitted free.

The film, created by Russian filmmaker Yuri Salnikov, features original footage of the rescue from the 1930s with film from previous documentaries.

"I was mightily impressed—especially to see film footage of the rescue itself, even of airplanes landing on the ice camp," said R. E G. Davies of the first time he saw the film. Davies and Salnikov coauthored the book The Chelyuskin Adventure.

After the screening, Salnikov, Davies, and voyage survivor Katrina Vasilevska will discuss the historic expedition and rescue.

For two months, the Soviet government planned the evacuation and practiced a sea-air rescue. Two American aircraft mechanics were among the team of rescuers and were later awarded the Order of Lenin by the Soviet government.