Arts and Culture
Choral Spring Concert to Take Audience Beyond Moonlight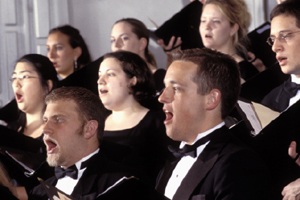 What would a musical interpretation of night, moonlight, and spirituality sound like? Explore the concept in the American University Chorus's spring concert Beyond Moonlight  at  8 p.m. Saturday, April 18, and 3 p.m. Sunday, April 19, in the Abramson Family Recital Hall at the Katzen Arts Center.  

Tickets are $15 for the general public, $10 for members of the AU community, and $5 for students.

Beyond Moonlight  features a variety of pieces, from Johannes Brahms's O Schöne Nacht, Op. 92, No. 1 and Samuel Barber's Sure on This Shining Night to Henry Purcell's Hear My Prayer and Eric Whitacre's Cloudburst. American Traditional pieces such as Elijah Rock and Hark, I Hear the Harps Eternal will also be performed.

Director and conductor Daniel Abraham is an associate professor of music and director of choral activities at American University. He has received consistent praise for his artistry from the Washington Post and others.  

Abraham is also music and artistic director of the Bach Sinfonia.