Campus News
New Building Addition Opens Doors for Students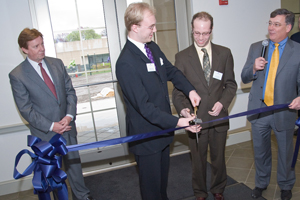 After months of jackhammers pounding away at concrete, cranes lifting materials high above the rooftops, and construction vehicles lumbering through campus, American University's new, expanded Kogod School of Business is at last complete.  
The building expansion, which is approximately 20,000 square feet, more than doubles Kogod's size. The school's new grand entrance fronts Massachusetts Avenue and with the Katzen Art Center enhances the appearance of Glover Gate, the main entrance to campus.
With a virtual Wall Street trading floor and high-tech classrooms, the school's new state-of-the-art facilities would impress the most savvy C-suite executive. However, Dean Richard M. Durand says the expansion's largest benefit is something that can't be created with masonry, microchips, or new furniture.
"This expansion will help encourage an improved sense of community among the students, faculty, and staff," said Durand, the Robert and Arlene Kogod Dean of the school. "All of our classes can now be held in the same building.  Instead of being on a floor rarely visited by students, faculty offices are now steps away from classrooms.  We can now more actively engage with one another."
Holding all Kogod classes in the same building is only one factor that will contribute to the improved sense of community. Students will go to the building to take advantage of numerous other spaces and offices designed to address the needs of today's business school students.
The Kogod Center for Career Development (KCCD) is the focal point of the new first floor. Dedicated full-time staff members advise business students on their professional goals, develop and maintain relationships with prospective employers, and host numerous events year-round for students to improve and expand their career skills and networks.
"The KCCD provides Kogod students, employers, and alumni a central place to come together for the career development services we offer," said Jesse Boeding, interim director of the center and director of undergraduate programs at Kogod.  "As a business school, the career center's dedicated space underscores the importance of career development and placement for our students."
The Financial Services and Information Technology Lab, on the terrace level, provides a virtual Wall Street trading floor experience for students. Outfitted with Thomson Reuters technology—including three unique financial products—the lab gives students instant access to streaming market news and changes, global developments, quotes, and data on more than 55,000 public companies.
Another lab, the Behavioral Research Lab, is the first of its kind at the university.  Here, faculty and students can develop and conduct research in disciplines such as marketing, management, information technology, and finance.
The expansion also includes:
seven new classrooms—two of which are outfitted for video conferencing, podcasting, and more
a computer lab with 10 spaces for students to conduct research and write about their findings
three new breakout rooms and three student lounges for additional study, meeting, and gathering
The Kogod and AU communities will celebrate the expansion's official completion with a series of events the week of April 13, including a community open house and ribbon-cutting ceremony.   
Made possible by the support of more than 26 generous donors, the Kogod expansion is the first on campus to be funded entirely by philanthropic means.