Athletics
Three Eagles Named to All-Patriot League Women's Lacrosse Teams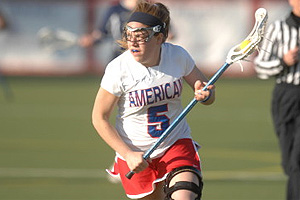 Senior Leslie Fischer, Junior Amanda Makoid and Junior Alyssa Romano were each named to the All-Patriot League Women's Lacrosse Second Team, conference officials announced Tuesday. This is the first all-league selection for each.
'It is very exciting for our program to have three players recognized on the All-Patriot League teams,' Head Coach Katie Woods said. 'Leslie, Amanda and Alyssa all had strong seasons and played important roles on our team this season. I look forward to Amanda and Alyssa's continued success next season and congratulate Leslie on a great career at AU.'
Fischer led the Eagles with 31 points, scoring a career-high 27 goals and four assists. The Midfielder recorded a career-high nine caused turnovers, matched her career-high with 11 draw controls and picked up 11 ground balls. Fischer recorded 10 games with multiple points including scoring a season-high three goals against Virginia Tech, Richmond and Holy Cross.
Makoid's 30 points ranked second on the team as she scored a career-high 25 goals and tallied five assists. Makoid also led the team in draw controls with 32 for the year. The Midfielder recorded a career-high four goals against George Mason and matched her career-high with five ground balls against Holy Cross.
Romano led American in caused turnovers with a career-high 24 and ranked fifth overall in the Patriot League. The defender also scooped up 20 ground balls and won five draw controls. Romano matched her career-high with four caused turnovers against Virginia Tech and had five games with three ground balls.