Campus News
American University's 123rd Commencement Inspires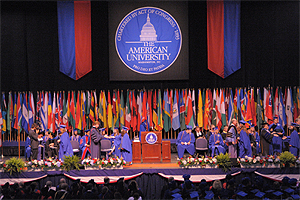 American University's 123rd commencement brought together 1,800 diverse graduates and an equally diverse group of speakers. The weekend's speakers offered words of encouragement and inspiration despite the current job market.
Speakers included a dedicated public servant, a Wall Street executive, the founding director of a long-awaited national museum, an international human rights activist, and a prominent journalist.

Click here to access transcripts and watch videos of all commencement speeches.

The weekend concluded on Mother's Day, May 10, 2009, with the School of International Service ceremony and a rousing speech by SIS graduate and human rights advocate John Prendergast.

"Over the last century, there's no doubt it's been the people's movements that have changed the course of human history," said Prendergast, the cofounder of the Enough Project, an initiative to end genocide and crimes against humanity. "And you made darn sure that your precious and your hard earned degree from American University was a beacon that lit a path for all those seeking a better world."

Gary Cohn, president and chief operating officer of Goldman Sachs, opened the second day of commencement, addressing the graduates of the Kogod School of Business. An alumnus of Kogod, Cohn drew parallels between the state of the economy today and when he graduated in 1982. He told students that despite the economy, with passion and hard work, they will succeed.

"There's a striking resemblance between what you are thinking and what you are going through today and what I was thinking and what I was going through [when I graduated]," said Cohn. "I had no interviews. I had no prospects...What I did have, I had passion."

The university's commencement ceremonies began on Saturday, May 9, 2009, with the School of Public Affairs ceremony and speaker Rep. Barney Frank (D-Mass.), who received an honorary Doctor of Public Service degree. Susan Zirinsky, executive producer of 48 Hours, followed in the afternoon with an address to 250 School of Communication graduates. And Lonnie Bunch, founding director of the Smithsonian's National Museum of African American History and Culture, rounded out the first day of commencement ceremonies as the speaker for the College of Arts and Sciences.

"Idealism without pragmatism is just a way to flatter your ego," Rep. Frank told the more than 350 SPA graduates at the start of the day.

Dubbed "one of the most powerful members of Congress" by the New York Times, Rep. Frank is a fierce proponent of civil rights issues, including lesbian, gay, bisexual, and transgender rights. He also serves as chairman of the House Financial Services Committee.

Zirinsky, who has served as executive producer of 48 Hours since 1996 and is also serving as executive producer of special projects for CBS News, told students not to fear the current state of journalism."There's something odd about having fear as a motivator—it's like a drug. Fear teaches you to think on your feet." She opened by telling students to stand and say, "I will get a job."

Bunch, who taught at American University, urged students to remain close to AU even after graduation. "No matter how fast one runs or how smart one is, there will be many times when we need to draw support, inspiration, and guidance from others," Bunch told the students. "Some of that support, some of that inspiration, should come from the faculty, staff, and students that you encountered here at American."

Also recognized at the ceremonies were student award recipients David Teslicko (Cathryn Seckler-Hudson Award), Carrie Johnson (Fletcher Scholar Award), Justin Bibb (Bruce Hughes Award), Amanda Fulton (Kinsman-Hurst Award), Bill DeBaun (Charles W. Van Way Award), Josh Levitz (Outstanding Leadership at the Undergraduate Level), Casey Roe (Oustanding Service to the University Community), Irene Schickhardt (Stafford H. Cassell Award), Katie Beran (Harold Johnson Award), Joseph Berman (Evelyn Swarthout Hayes Award), Anthony Edwards (Charles C. Glover Award), and Mario Beltran (Carlton Savage Award). Carrie Johnson was also awarded the university's highest honor, the 2009 President's Award.