Student Life
Meet the Student Government Leadership Team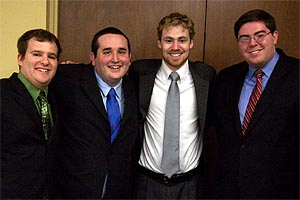 What do an a cappella singer, a business student, the general manager of a television station, and a Capitol Hill intern have in common? They were all elected to represent the undergraduate student body as the 2009–2010 Student Government executive board at American University.

Andrew MacCracken, a sophomore in the School of Public Affairs, was elected president of the student body. In addition to serving as the speaker of the Undergraduate Senate, MacCracken is a member of AU's all-male a cappella choir, On a Sensual Note, and has participated in the AU chorus.

Vice president-elect Alex Prescott, the sole Kogod student on this year's executive board, is a newcomer to the Student Government, but no stranger to on-campus leadership. He has been the vice president of finance for the Sigma Phi Epsilon fraternity and the fund-raising chair for the College Democrats.

Colin Meiselman, the secretary-elect, is a junior in the School of Public Affairs and is the general manager for ATV, AU's student-run television station. Meiselman also got his start with the Undergraduate Senate, representing the Class of 2010.

And finally, Matt Handverger, a sophomore in the School of Public Affairs, was elected comptroller to round out the executive board. Handverger has previously served as comptroller for the Class of 2011, but distinguishes himself by putting his education into practice as an intern for Congressman Edward Markey (D-MA). He is also a member of the Alpha Epsilon Pi fraternity.

Though the four newly-elected executives found their way to the Student Government in different ways, all have common goals for the year ahead. Each has pledged to improve collaboration with student clubs and leadership organizations and increase campus unity. They hope to use the unique experiences that they bring to the job to help them carry out their new roles.

As president, MacCracken's primary responsibility will be to advocate for students at the university level, citing student transportation, health center accessibility, and campus safety as his policy priorities. MacCracken also expressed an interest in working more closely with student clubs and leadership organizations. No doubt his connections with On a Sensual Note and the SPA Leadership program, of which he is also a member, will help him reach out to the university community and represent a diversity of perspectives to the administration.

Prescott, Meiselman, and Handverger, likewise, will find their past experiences useful. Responsible mainly for programming, Prescott will draw on his experiences managing events to create an event line-up that's appealing to the student body. Meiselman plans to use his experience with ATV to diversify communication with the student body. He has already broadened his cabinet to include a director of visual media and a director of new media. Handverger will translate his fiduciary oversight skills from the Class of 2011 budget to the larger Student Government budget.