Campus News
AU to Offer Financial Resources to Post-9/11 Veterans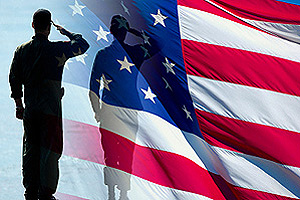 American University will commit financial resources to support admitted post-9/11 veterans at the undergraduate, graduate, and law school level by participating in the U.S. Department of Veterans Affairs' Yellow Ribbon GI Education Enhancement Program, otherwise known as the Yellow Ribbon Program.

During the first year, AU will support up to 18 veterans—four at the undergraduate level, 10 at the graduate level, and four law degree seeking students.  After four years, AU will fully support up to 40 veterans during an academic year. The program will commence this fall.   

"Dating back to World War I, American University has a long-standing tradition of supporting America's military efforts," said Provost Scott Bass in announcing the program. "Participation in the Yellow Ribbon Program is a wonderful testament of AU's support for veterans and is a natural partnership for an institution with a deep commitment to serving the public interest."

Annually, qualified undergraduate post-9/11 veterans may receive up to $13,750 each, renewable for up to four years. At the graduate level, veterans can receive up to $8,900 each annually for up to three years. Veterans attending AU's Washington College of Law may receive up to $10,210 each per year for up to three years.

At each level, the Department of Veterans Affairs will match the same amount to enable veterans to attend AU with little to no cost.

The Yellow Ribbon Program was created from the Post-9/11 Veterans Educational Assistance Act of 2008.  This program allows colleges and universities in the United States to enter into an agreement with Veterans Affairs to share tuition expenses that exceed the highest public in-state tuition rate.

As the program continues, the university is willing to expand options to veterans if interest increases.