Journalism
Women's Web Start-Ups Receive Foundation Award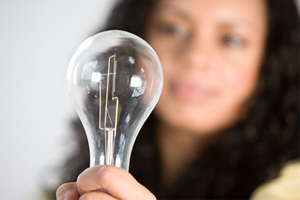 Three entrepreneurial news ideas conceptualized by women—­including franchises for community news sites, a food policy and strategies start-up, and a health Web site for women ages 18 to 27—each won $10,000 from the McCormick Foundation New Media Women Entrepreneurs initiative, a program administered by J-Lab: The Institute for Interactive Journalism, a center of American University's School of Communication.  
This marks the second year of the program that addresses opportunity and innovation, recruitment, and retention for women in journalism by spotlighting their ingenuity and entrepreneurial abilities.   
"There was an incredibly competitive field of creative ideas to address specific issues proposed by women who have a great deal of optimism about the future of news and information," said Jan Schaffer, director of J-Lab.
Each project will receive $10,000 to launch within a year and project leaders will blog about their experiences at newmediawomen.org. The winners are:
ChickRx—Harvard MBA student Stacey Borden and partner Meghan Muntean will lead a team of women in launching an "edgy, approachable, engaging" online health resource uniquely targeted to women, ages 18 to 27. It will have content and Q&A's that will be updated daily from medical, family, and nutrition experts, addressing such questions as: "Can drinking too much Diet Coke increase my risk of getting cancer?"  "Can I lose five pounds in week without starving myself?" "Why am I unhappy, even though I know I shouldn't be?" Borden is the former campus relations director of 85 Broads, a national professional women's group.
Women's Community News Franchise—Former MytopiaCafe.com editor Michelle Ferrier will develop a complete infrastructure—to be franchised—for those who want to launch hyperlocal news sites. A demo site will launch later this year in West Volusia County, Florida, piloting services that will include a Web platform, software development, market analysis, some content, and legal and marketing assistance. Such an infrastructure, says Ferrier, will permit citizen journalists and community members to "focus on what they are most passionate about—building their community conversation through good local information and networking."
The Good Food Fight—Three media-savvy Seattle women will connect consumers interested in food with larger public policy issues that affect food choices, security, safety, health, and sustainability. Partners Kristin Hyde, Jen Lamson, and Amy Pennington will use their deep experience in policy, marketing, journalism, and digital campaigns "to leverage the growing concern and interest in food with a call to arms." They plan to use a business-to-business model as well as their own outreach to leverage support from subscribers, sponsors, donors and foundations.
The runners up are:
Daily Phoenix—A plan by Aleksandra Chojnacka and Adam Klawonn to use the Web and text messaging to interact with light-rail users in the Phoenix, Tempe, and Mesa areas of Arizona, using games, business promotions, and news for each stop on the 20-mile route.
See Jane Grow—A plan by ecopreneuring author and Wisconsin innkeeper Lisa Kivirist  to launch a resource and story-sharing portal for the growing numbers of women engaged in purchasing new farms and launching small, green, rural businesses.
Echo Park TV—A site by documentary filmmaker Carolin Reiter to build community connections in a largely Hispanic and artistic neighborhood—known as the SoHo of Los Angeles—using Webcasts, newspapers, social networks, and the sharing of design, music, and video skills.
The winners were selected from 435 proposals—a 129 percent increase in proposals from last year's total of 190. Winning proposals had prospects for scaling larger and had clear ideas of how to use the funds, update content frequently, and how to market their projects, Schaffer said.
The Chicago-based McCormick Foundation funds the New Media Women Entrepreneurs initiative. "We are elated about the number and quality of the proposals," said Clark Bell, the foundation's journalism program director. "This initiative showcases the energy, creativity and innovation of media entrepreneurs.  These women are not waiting for the next big thing. They are determined to create it."