Safety & Security
Clarification About Friday's H1N1 Vaccine Clinic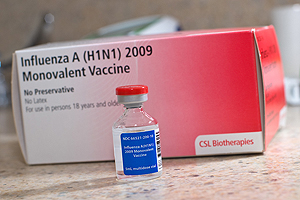 Since our communication yesterday afternoon about the Student Health Center's vaccination clinic on Friday, November 20, both Human Resources and the Student Health Center have received questions from faculty and staff about whether their children under the age of 18 are able to receive the vaccination here on campus.  

As much as we would like to be able to help our extended AU families, unfortunately we will not be able to provide the vaccine to children under 18 as the university only received adult doses of the vaccine.

The reason why the DC Department of Health has encouraged us not to provide the vaccine to children under 18 is that two doses of nasal spray or H1N1 shot are required for children (see information below from the CDC). Because the university does not know when we will receive additional vaccine doses or how many, we do not want to take the risk of not fully vaccinating children.


From the CDC: All children 2 through 9 years of age getting a 2009 H1N1 vaccine will need two doses of 2009 H1N1 vaccine (either the 2009 H1N1 flu shot or the 2009 H1N1 nasal spray vaccine), The first dose should being given as soon as vaccine becomes available. The second dose should be given 28 or more days after the first dose. The first dose "primes" the immune system; the second dose provides immune protection. Children who only get one dose of vaccine when they need two doses may have reduced or no protection. Be sure to follow up to get your child a second dose if they need one. It usually takes about two weeks after the second dose for protection to begin.
We did receive the intranasal spray (which could be administered to children) but we have been encouraged by the DC Department of Health to provide this to the persons in our community (students, staff, and faculty) who are among the priority groups listed by the CDC.

As we said yesterday, our community is known for its willingness to work together and we have shined, especially this fall, as we've faced this issue. We appreciate your comments today, which have enabled us to address concerns you may have.  

For further information, visit the CDC's web pages on H1N1 vaccine safety and vaccine facts.

If you have flu-like symptoms, we encourage you to self-isolate, in accordance with guidelines from the CDC. Symptoms of the H1N1 virus are similar to regular seasonal influenza and include fever, cough, sore throat, runny or stuffy nose, headaches, body aches, chills, fatigue, diarrhea and vomiting.

If you are experiencing flu-like symptoms, please report it to the Student Health Center (students) or Carol Edwards in HR at x2589 (staff-faculty).

H1N1 information can be found at www.american.edu/H1N1. The page is also accessible from the Quick Links section of the AU home page.