Safety & Security
Students Line Up for H1N1 Vaccination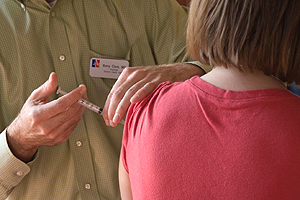 American University administered more than 1,100 H1N1 flu vaccinations Friday at its temporary vaccine clinic on the first floor of Mary Graydon Center. Run by the Student Health Center, the clinic opened at 9 a.m. to a line of students that snaked across the Eric Friedheim Quadrangle to the front of the Ward building.

"We had a large line in the morning, but everything went smoothly and we were able to get everyone in and out of the clinic in a timely manner," said Dan Bruey, director of the Student Health Center.

The vaccine was administered to AU students, faculty and staff members of priority groups, as outlined by the Centers for Disease Control and Prevention (CDC): pregnant women; household contacts and caregivers for children younger than 6 months of age; healthcare and emergency medical services personnel; all people from 6 months through 24 years of age; children from 6 months through 18 years of age; young adults 19 through 24 years of age; and persons aged 25 through 64 years who have health conditions.

In the first two hours the clinic administered roughly 300 vaccinations according to Bruey. After the initial surge of students received their vaccinations, other students, faculty, and staff were vaccinated in less than 15 minutes as lines fluctuated throughout the day depending on classes.

Vaccines were free of charge on a first-come, first-served basis.