Achievements
American University Passes Accreditation Review With High Marks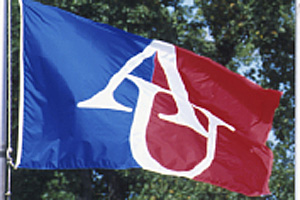 The Middle States Commission on Higher Education has released its analysis affirming American University's accreditation—and the reviews are glowing. The analysis was released July 27, 2009.

"Over the past five years, American University weathered a rough leadership transition and the Periodic Review Report demonstrates that it has emerged as a much stronger institution," reads the analysis. "The institution has enjoyed considerable success over the past five years, and has laid the foundation for continued success in the future."

Three main areas were cited as proof positive that AU is a much stronger institution:


    fiscal strength and budgeting
    the Strategic Plan
    open governance and communication processes
The analysis also noted AU's commitment to facilitating and increasing sponsored faculty research, "remarkably constant" undergraduate enrollment, and increased student retention, among other areas of improvement.
To remain accredited, Middle States Commission colleges and universities—in total about 520—undergo a self-study every 10 years and submit a Periodic Review Report at the five-year point between self-studies. AU submitted its most recent self-study in 2003–2004 and submitted its Periodic Review Report in 2009. 
The Middle States Commission on Higher Education is the unit of the Middle States Association of Colleges and Schools that accredits degree-granting colleges and universities in the Middle States region, which includes Delaware, the District of Columbia, Maryland, New Jersey, New York, Pennsylvania, Puerto Rico, the U.S. Virgin Islands, and several international locations.