On Campus
American University's Top Ten Stories of 2009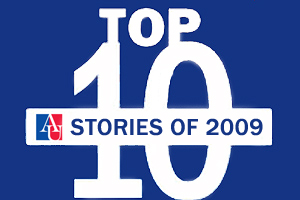 From the launch of the new Web site to the men's basketball team's second NCAA Tournament appearance to cutting-edge faculty research, 2009 was an exceptional year for American University. What better way to celebrate the accomplishments than to take a look back at AU's top 10 stories of the year?  

This year presented a new twist in ranking the stories: you decided by casting your votes through "likes" for each story on the AU Facebook page.  The results are in—here is how you ranked the stories according to the percentage of total votes.  

1. Men's Basketball (20 percent of all votes)—The title "champion" is twice as nice when you earn it two years in a row.

2. Inauguration (15.2 percent of all votes)—Students weren't the only ones being active citizens that historic day.
 
3. AU's Rising Profile (14.4 percent of all votes)—Financially strong and growing with strong academic programs, AU continued its ascent to the top among national universities.

4. Rediscover AU (12 percent of all votes)—The new Web site, one students are proud to share with friends and family, reflects AU's values and reputation.

5. Diane Rehm Show turns 30 (11.2 percent of all votes)—She is as magnetic as ever and after three decades on the air, The Diane Rehm Show is as well.

6. AU Exemplifies Excellence (10.4 percent of all votes)—American University earns high marks from peer institutions.

7. Learning From Leaders (7.2 percent of all votes)—The Dalai Lama, Vice President Biden's chief economist, and the National Oceanic and Atmospheric Administration's chief administrator were only three who came to share their knowledge with AU's engaged students.

8. Cutting Edge Faculty Research (5.6 percent of all votes)—With research ranging from the impact breastfeeding has on a child's academic performance later in life; to projects tracking bank performance in the wake of the crisis, the rise of the American conservative movement, and the ethics challenges facing documentary filmmakers, professors reflected the scholar-teacher ideal.

9. Student Achievement (4.8 percent of all votes)—A national student Oscar, AU's first USA Today All-Academic Team member plus Truman, Udall, and Goldwater scholars pointed to the strength of AU's academics.

10. New Leaders On Campus (3.2 percent of all votes)—New leaders in CAS, graduate studies and research, SPA and the sciences, as well as alumni relations and development underline AU's exciting plans for the future.
 
Coming in 2010

It's no surprise that next year and the next decade are already shaping up to be promising for AU.  The new Gold LEED facility for the School of International Service is scheduled for completion this spring, and the university is already funding Strategic Planning initiatives (new programs to serve students, faculty, and alumni). It all makes for an exciting start to a new era at American University.