Achievements
AU President Named a Washingtonian
of the Year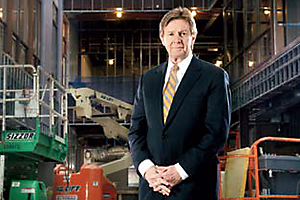 American University President Neil Kerwin was named a 2009 Washingtonian of the Year by Washingtonian magazine in its January 2010 issue.
For the past 38 years, Washingtonian has honored men and women who give their time and talent to make the Washington, D.C. metropolitan area a better place.  Kerwin is among ten local leaders honored, including former Senator John Warner, arts advocate Carol Trawick and Washington Post columnist Colbert I. King.
In the article, Kerwin notes AU's plan to expand programs into public health, Latino studies, and sustainability. He also highlights AU's strong ties to D.C. including the university's Freshmen Service Experience, in which more than 600 students perform community service before the school year begins, and the School of Education which is involved in every ward in D.C. 
Kerwin was photographed in the School of International Service Building, currently under construction. The new 75,000-square-foot building is being built to Gold LEED specifications and will open to students and faculty in fall 2010.  The School of International Service will be a vibrant center for teaching, learning, and research that reflects today's socially-conscious students who are striving to create an environment of global peace.
After serving as a professor, dean of the School of Public Affairs, and university provost, Kerwin became AU's 14th president and first alumnus president in the school's history in September 2007. 
Kerwin joins WAMU 88.5 American University Radio hosts Diane Rehm and Kojo Nnamdi as Washingtonians of the Year. Rehm was honored by the magazine in 1998 and Nnamdi in 2005.