In the Community
American University Partners with the Smithsonian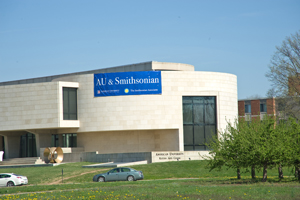 American University and the Smithsonian Institution's cultural, educational, and membership division, The Smithsonian Associates, will launch a new series on AU's campus in April.

The Smithsonian Associates at AU will take place from April 15 to 29 at American University's Katzen Arts Center and Greenberg Theatre. This newly forged partnership, which embodies the values and resources of two major Washington-based organizations, brings the Smithsonian's popular Resident Associate Programs to AU for lectures, performances, panels, and special evenings of learning. The programs, which are open to the public as well as Smithsonian members, require tickets.

"By partnering with the Smithsonian, one of Washington, D.C.'s, most influential and well respected institutions, we are making the distinctive Resident Associate Programs available to an even wider audience," said Neil Kerwin, president of American University. "Washington, D.C., is a remarkable place to learn. Like the Smithsonian, American University cultivates the intellectual and cultural resources of our nation's capital."

"Both American University and the Smithsonian are hopeful that the emergence of The Smithsonian Associates at AU will mark the beginning of a long and fruitful collaboration for years to come," said Barbara Tuceling, director of The Smithsonian Associates.

The series will begin on Thursday, April 15 at 7 p.m. at the Katzen Arts Center with a discussion of the future of museums. Panelists include Smithsonian under secretary Richard Kurin, director of the Phillips Collection Dorothy Kosinski, president and COO of the Newseum Kenneth Paulson, and director of the American University Museum Jack Rasmussen.

Other programs in the series:


Sunday, April 18, 7:30 p.m. (Katzen) – A musical evening with pianist John Eaton and Rob Bamberger, host of WAMU 88.5's popular show Hot Jazz Saturday Night. With bass player Tommy Cecil.


Thursday, April 22, 6:45 p.m. (Greenberg) – An interview with renowned biologist and Pulitzer Prize-winning author E.O. Wilson about his first work of fiction; Anthill (W.W. Norton & Co., 2010).


Tuesday, April 27, 6:45 p.m. (Greenberg) – An evening with White House correspondents including Don Gonyea (NPR), Dan Lothian (CNN), Sheryl Stolberg (New York Times), John Dickerson (Slate magazine) moderated by Ken Walsh of U.S. News & World Report.


Wednesday, April 28, 7 p.m. (Greenberg) – Chris Palmer, filmmaker and director of AU's Center for Environmental Filmmaking, will discuss his forthcoming book Shooting in the Wild (Sierra Club, 2010), an insider's look at the practices of wildlife filmmaking.


Thurs. April 29, 7:30 p.m. (Katzen) – As part of Jazz Appreciation Month, Paris-born saxophonist and composer Jerome Sabbagh and his group will perform music from their new release One, Two, Three.


For tickets, visit residentassociates.org.