On Campus
School of International Service Opens "Green" Building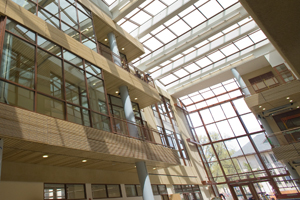 In 1956, Dwight D. Eisenhower charged the United States with increasing its capacity to train young men and women to "wage peace" around the world. One year later, Eisenhower embraced the idea of dedicating a school within American University that was predicated on service to the global community by participating in a ground breaking ceremony for the original School of International Service building on June 9, 1957.

On May 14, 2010, American University will open the doors of its newest building at a symbolic ribbon cutting ceremony for members of the Board of Trustees. This event celebrates a new 70,000 square-foot, eco-friendly building, and the school's mission to wage peace. The official opening of the new building will take place on September 23, 2010.

Renowned "green" architect William McDonough designed the new building to reinforce the values inherent in the school's mission. Its design, construction, and operation reflect the School of International Service's commitment to advancing ecological stewardship, preserving transparency and human dignity, and working for social justice. As an environmentally-friendly structure, the new building epitomizes healthy living and will reduce energy consumption, minimize construction waste, and create a space that will protect public health.
 
Designed for LEED certification with the goal of being gold rated, McDonough developed a building that focuses on key elements of human and environmental health, including sustainable site development, water savings, materials selection, and indoor environmental quality. By using natural light, nontoxic materials, and climate controls that ensure the quality of indoor air, AU incorporated each of the LEED pillars.

Faculty and students from the Global Environmental Politics Program within the School of International Service were also involved in the new building's planning and design."Thanks to our students, faculty and the leadership of William McDonough, the new School of International Service will be a vibrant center for teaching, learning, and research, that reflects today's socially-conscious students who are striving to create an environment of global peace," said Louis Goodman, Dean of AU's School of International Service.

"Our new home will go a long way towards inspiring our community to reach new levels of global responsibility and public understanding. It will also inspire students on multiple levels to engage with the great issues of our time, including sustainability," said Goodman.

In order to achieve this goal, the new SIS building will have important 'green' attributes including:

3,230 square-feet of photovoltaic solar panels on the roof reduce reliance on nonrenewable sources

Skylights in the atrium bring in natural daylight
Nontoxic materials and state-of-the-art green installations increase natural air flow and effective ventilation

Rain water is collected and used for landscape irrigation

Low-flow faucets and fixtures reduce water consumption
Among the largest LED-lit spaces in Washington, D.C.
First building with three solar water heating systems in Washington, D.C.
As a result of its design and various eco-friendly attributes, the new building brings in a large amount of natural daylight through its large expanses of glass and atrium skylights. With its open seating areas, terrazzo flooring, and inviting entry way, the building will serve as the ideal environment for learning, sharing ideas, and embracing the school's dedication to transparency.
"From the spacious windows to the illuminated offices, we wanted the design of the new SIS building to reflect a sense of openness that would welcome faculty and staff to communicate and share ideas and creative solutions," says Goodman.

Thirty of American University's buildings are registered for LEED accreditation, the nationally accepted benchmark for the design, construction, and operation of high performance green buildings. Throughout the entire campus, AU continues to make additions to its green campaign, including initiatives in transportation, grounds, water, energy and waste management. American University will submit its plan to achieve carbon neutrality on May 15, 2010 as an active participant in the American College and University President's Climate Commitment.