Literature
It's Time to Bring Shakespeare Out of the Closet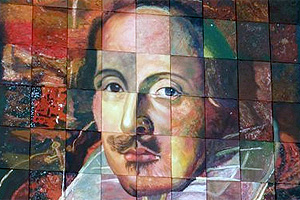 A fairy queen falls for a man called "Bottom" who, thanks to some mischievous magic, has the head of a donkey. A woman falls in love with a man who is actually a woman posing as a man. 

Both are plot developments from works of William Shakespeare that might be considered unusual or "queer"—unless you happen to be a historical traditionalist.

Queer theory is a form of literary criticism through which texts are interpreted from a queer perspective (mostly focused on desire, power, identity, temporality, and language). Many scholars say queer theory is not relevant to Shakespeare's works because he died on April 23, 1616—nearly two hundred years before homosexuality and heterosexuality were "institutionalized" around 1800.  

But Madhavi Menon, editor of the book Shakesqueer: A Queer Companion to the Complete Works of Shakespeare (Duke University Press, 2011), says the gap between Shakespeare and queer theory can be bridged if queer theory adopts a more broad definition of "queer." 

Rather than referring exclusively to homosexuality, "queer" should encompass everything and anything odd, eccentric, and unexpected, such as the fairy queen Titania falling in love with the donkey-headed Nick Bottom in A Midsummer Night's Dream, or King Lear's complicated take on the limits of the human. 

Menon, a literature professor at American University, says queer theory's hitherto straight and narrow definition of "queer" and the notion of Shakespeare as sacrosanct (a phenomenon she calls "Shakesfear") disregards the Bard's reputation as an author who speaks across time.

Read a Shakespeare Q&A with Menon.

"The reason we still study Shakespeare is because his works are compelling in their seemingly endless complexity," said Menon. "Why, then, should we say we cannot bring our knowledge generated today to bear on a text from 400 years ago?"  

Menon says there are plenty of ways to think queerly about Shakespeare and for Shakespeare to enrich queer theory.

"One of the things I'm interested in is how or why Shakespeare, from the 16th and early 17th centuries, can talk to a phenomenon that got codified only in the 20th century," said Menon. "Clearly, there cannot be a relationship if we think of chronology or of history as separated into discrete compartments, such that every century is contained within itself. There has to be some kind of conversation across time."

The book, which grew out of Menon's Shakesqueer course at American University, adopts the broader approach to queer theory as its 48 essays chase all manner of stray desires through every one of Shakespeare's plays and poems.

Menon hopes it will set the course for a queer theory that will at last bring Shakespeare out of the closet and into full theoretical discourse.