On Campus
American University Modifies Campus Plan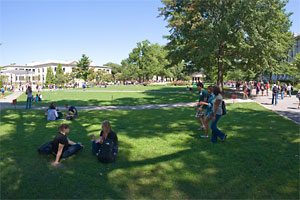 After ongoing discussions with and responses from community members, the Advisory Neighborhood Commissions, District of Columbia agencies, city officials, and university constituencies, American University has made a number of changes to its 2011 Campus Plan, which it submitted to the D.C. Zoning Commission on March 18.  
AU submitted the changes as its Pre-Hearing Statement on May 20 to the Zoning Commission and other city agencies, and will post all changes to the AU website devoted to the Campus Plan and available for public review.  

The changes are an effort to respond to community concerns while enabling American University to pursue its most important educational and facilities objectives, including to:
Improve and offer attractive student housing to encourage more undergraduates to live on campus;
Build a new home for the Washington College of Law at the Tenley Campus near the Metro and a major transportation corridor;
Provide additional faculty office, research, science and related spaces;
Build additional athletics facilities, an admissions/welcome center, and alumni center.
The changes include:
East Campus
On what is now a university-owned eight acre parking lot on Nebraska Avenue:
Removal of one residence hall which results in 590 students total housed on that site -- reduced from 770 as originally filed;
Student residence halls have been located approximately 100 feet from the adjacent town home property line and have been oriented so that entrances and windows do not face town homes;
Buildings closest to the town homes are of similar height (34 feet) and will contain administrative/academic uses;
Buffer area (from 40 to 80 feet) will be significantly landscaped with mature trees to remain;
No freshmen will live in East Campus housing;
Massachusetts Avenue driveway has been removed from the site plan;
The existing Nebraska Avenue driveway has been retained;
To manage potential mid-block pedestrian crossings on Nebraska Avenue, a pedestrian activated traffic signal has been proposed;
To reduce automobile traffic to the site, the parking inventory has been reduced by 100 spaces; the result will be 150 underground and 250 above ground for a total of 400 spaces.
To diminish the East Campus impact on the neighboring communities, these changes result in a:

18% reduction in square footage;
24% reduction in number of beds;
20% reduction in parking spaces since the March 18 filing.

Approximately half of the new East Campus buildings will now be devoted to academic/administrative use and half to housing on the eight acre parcel. When all proposed housing is built, East Campus housing would represent less than 14% of AU's total housing inventory.
All buildings on the East Campus will be designed and constructed to achieve LEED Gold certification. In addition, the project will incorporate Low Impact Development (LID) elements such as flow through planters and bio-retention areas.
North Hall
On a main campus site adjacent to the President's Office:
Increase in the number of students housed from 200 to 360;
This increase results from the redistribution of housing from East Campus;
Further processing for North Hall will be filed in summer 2011 (with a public hearing desired in fall 2011).
Nebraska Hall
An addition to an existing residence hall adjacent to the Katzen Arts Center:
No change will be made to the earlier proposed footprint, but internal floor/re-configurations will result in 30 more students to be housed in Nebraska Hall as part of the redistribution of housing from East Campus.
Washington College of Law
Relocating the law school to the eight acre Tenley Campus:
AU will continue to work with the D.C. Historic Preservation Office, Office of Planning, ANC 3E and Tenley community members as the plans continue to evolve;
Further processing is expected to be filed in summer 2011 with a public hearing desired for fall 2011.
Capping Students, Faculty, and Staff
AU proposes a "cap" on the number of students, faculty and staff for the coming decade, with a total enrollment of 13,600 (including the law school) and total faculty and staff population of 2,900;
Previously outlined as a "projection," these numbers indicate very small undergraduate growth -- less than 100 new undergraduate students over the next 10 years or 1.3%; moderate law school growth (approximately 230 students) at its new Tenleytown location near Metro; and larger graduate student growth (approximately 1170), which is a different student demographic in terms of age, matriculation, campus use, behavior, and class time patterns. 
All updates and details will be posted and available for review at http://www.american.edu/finance/fas/2011-Campus-Plan.cfm. Materials from almost two years of community discussions are also posted which indicates how the plan has evolved via community discussion and public review.
AU's 2011 Campus Plan is built on its strategic plan for academic excellence and reflects a desire by AU to further strengthen its academic prestige, be an asset to Washington, D.C., and an educational, cultural, and aesthetic amenity to the surrounding community.
The priority of building undergraduate housing on existing university property attempts to remedy an acute on campus housing shortage and a situation in which no major housing project has been undertaken in the past 25 years. American University desires to upgrade housing so that more undergraduates have the option to remain on campus in more modern housing, and increase the inventory from approximately 3,500 beds currently to approximately 4,300 beds when the desired housing is built.
The priority of relocating the law school is based on the current law school having outgrown its home, and the desire to move it to a major transportation corridor within walking distance of Metro.
American University has hearings scheduled before the D.C. Zoning Commission on June 9, June 23, and July 14.