International
School of International Service Names New Dean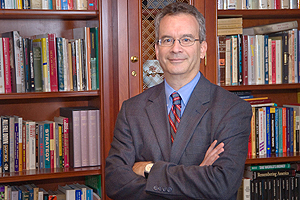 American University has named James Goldgeier, an internationally renowned scholar whose academic research focuses on contemporary international relations and American foreign policy, to be the new dean of its School of International Service (SIS).  

Goldgeier is currently a professor of political science and international relations at The George Washington University and will take over at SIS—the largest school of international affairs in the country—on August 1, 2011.

"Dr. Goldgeier's record and standing within the international affairs community and his vision for the future of SIS will help the school forge new ties between faculty, students, alumni and influential decision-makers," said Provost Scott Bass in announcing the appointment.

"I'm thrilled to have this wonderful opportunity," said Goldgeier. "I look forward to working with the SIS community to promote first-rate academic research, strengthen SIS as a leader in undergraduate and graduate education, and deepen the school's ties to the Washington, D.C., policy community."  

A leading figure in the world of public policy, Goldgeier is the author or co-author of four books. Slate magazine and The Daily Beast chose his book America Between the Wars: From 11/9 to 9/11 (with Derek Chollet) as 'a best book' and 'a favorite book' of 2008, respectively. His book, Power and Purpose: U.S. Policy toward Russia after the Cold War (with Michael McFaul), earned the 2004 Georgetown University Lepgold Book Prize for best book on international relations.

Goldgeier has held the Whitney Shepardson fellowship at the Council on Foreign Relations and the Henry Kissinger chair in foreign policy and international relations at the Library of Congress as well as appointments at the U.S. Department of State, the National Security Council staff, the Brookings Institution, the Woodrow Wilson International Center for Scholars, the Hoover Institution, and the German Marshall Fund's Transatlantic Academy.  In addition, from 2001-2005, he directed George Washington University's Institute for European, Russian and Eurasian Studies.

American University's School of International Service boasts 90 full-time faculty members who educate more than 3,000 students from more than 150 countries. The school was founded in 1957, after Dwight Eisenhower's observation that the United States needed to increase its capacity to train young men and women to 'wage peace' around the world, and its inaugural international service class consisted of 80 students from 36 countries.

Today, SIS offers eight major areas of study, two undergraduate degree programs, 14 professional masters programs, a highly selective doctoral program in international relations, and 15 research centers. Foreign Policy magazine ranked American University's international relations track eighth among master's programs and seventeenth among top undergraduate programs.

Before joining the faculty at The George Washington University, Goldgeier served on the faculty at Cornell University and as a visiting research fellow at Stanford University. He holds an AB from Harvard University and an MA and PhD from the University of California-Berkeley.

Goldgeier succeeds Dean Louis Goodman who will return to teaching in the School of International Service.