Student Life
Ambitious Students Seek Three-Year Degrees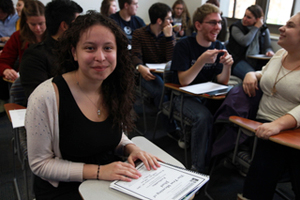 What do some top performing high school seniors crave? The answer might surprise you — maximum rigor to obtain a bachelor of arts degree in three years.  

Planting the Flag for Three Year Programs

American University recognized this demand and made a significant investment to three-year programs in 2009 when it committed to launch the Global Scholars Program (GSP) in the School of International Service in 2011. AU built its current GSP and future three-year programs with some key goals in mind as explained by Virginia Stallings, interim vice provost for undergraduate studies, "AU's programs differ from other institutions' three-year programs in that our programs will offer students socialization experience through learning communities. Upon graduation, students will not only leave with a degree in three years; they will leave with experience, preparation, and a level of commitment to the field that prepares them for graduate study or placement in the workforce."
 
AU plans to introduce new three-year programs in 2012 and 2013 across different disciplines to attract students most committed to their fields of study. For 2012, applications are being accepted for a new three-year program in Public Health in the College of Arts and Sciences. For 2013, the School of Public Affairs and School of Communication will each have at least one three-year program.

The cornerstone of AU's three-year programs is a living and learning environment. Two faculty members, Professors Sara Cleeland Knight and Simon Nicholson both SIS faculty, guide the GSP cohort along the way from choosing classes, making plans semesters in advance, and providing a first-year living experience concentrating the cohort into a distinct living group with mentoring and activities along the way. "The living-learning community helps students to build relationships with their professors and fellow students and connect them to important people and organizations in the D.C. area. These are the kinds of connections that will help students secure good internships, national merit awards, and employment opportunities after graduation," said Knight.

"The living-learning model is a great one for focused and driven students. It encourages our Global Scholars to take conversations begun in class and continue them in their residence, and to turn to one another for help as they grapple with new ideas," said Nicholson, a member of the global environmental politics faculty.

AU also built structure into the participants' two summers to take advantage of internships, study abroad, and classes held on campus to achieve eight semesters of coursework. The result is a three-year bachelor's degree with the opportunity to earn a master's in the fourth year.

Inaugural Three Year Degree Applications Exceeded Expectations

Fifty-seven entering freshman form the inaugural cohort of the GSP which doubled the 25 students AU expected. Fewer than 15 percent of applicants were accepted. The GSP cohort is diverse. International students from Germany, Japan, Switzerland, Panama, the U.K., and Canada comprise 14 percent of the cohort. U.S. students come from 24 states. Several are the first in their families to attend college, and 25 percent identify themselves as coming from underrepresented groups. In many cases, these students were among the highest achievers taking the most demanding Advanced Placement and International Baccalaureate courses offered in their high schools.

The Motivation for GSP Students

GSP students share a dedicated focus to obtain a bachelor of arts in international studies. They possess a demonstrated interest in international affairs such as model UN, personal interest in a region, or international career ambitions. They view their two summers as opportunities to remain mentally sharp and engaged taking classes, studying abroad, and participating in internships.  

Jean Peterson, a current GSP student, explained, "I decided to apply for the GSP so I could get on the fast track to making a difference in policy on a national or even international level. The extra connection with alumni and faculty will create even more opportunities for internships and job opportunities right after graduation. I cannot wait to intern over both summers, hopefully holding one internship abroad to gain a more well rounded view on the world."

What is life like for a GSP student?  

"Hectic" might be the first word that comes to mind because GSP students must fulfill all the same requirements as any undergraduate. AU's dedicated faculty and counselors help the GSP students navigate the compressed time-line and think at least two semesters ahead. Since the GSP is designed as a living and learning program, the students live together as a cohort for the first year which permits a small college type experience.

"What I enjoy most is that when we have a test in our cohort class, everyone in the class lives in the same building which makes it very easy to have a study session. We all work together on the readings for our class together, and each of us brings different insights. We are the sort of students who talk about the readings before class, debate it during class, and discuss it after class. It's a great bonding experience," said Isabelle Rodas, a current GSP student.