Athletics
Daniel Fisher Balances RA Duties, AU Hoops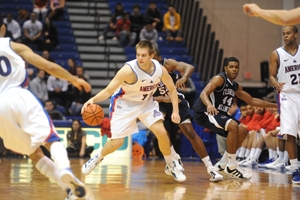 Daniel Fisher is a busy guy.

When he's not hitting the books as an international relations major, he's pounding the boards as a member of AU's men's basketball team. In the time that's left, he's a Resident Assistant in Nebraska Hall. It's hard to figure out how Fish, as his teammates call him, squeezes in sleeping and eating.

Being a student-athlete at AU is all about balance and time management. At this stage in his college career, Fisher could write a book on the subject.

The senior came to AU from Melbourne, Australia. He says Washington, D.C., attracted him because it's the seat of world democracy. It was the perfect place to study international relations.

"AU was a good school, there was good basketball, there were good people. It was something I couldn't pass up," Fisher said.

The 6'7" Fisher began his career for the AU Eagles as a center on the scout team. His role was to emulate the opposition in practice and help prepare the starting players for games, said Coach Jeff Jones.

"It really fit him well because he's so bright," Jones said. "He might have to learn two to three different team's offenses a week, but he has a knack for it."

In addition to his high basketball IQ, Fisher has proven to be a leader off the court. For three years, he's served as the men's basketball team representative on the Student Athlete Advisory Council. This year, he's president of the organization, which advocates for student athletes on campus. 
WATCH: AU Eagles Vision TV

Fisher's ability to square the demands of at least 20 hours of basketball a week, plus a full SIS course load and his obligations to the SAAC, was what prompted Jones to encourage his player to consider applying for an RA position.

It was an unusual proposition — being an RA takes up nearly as much time as being a Division I basketball player.

But Jones didn't have to worry about Fisher. He's as serious about school as he is about basketball. Jones thought it would be a good way for Fisher to feel like a member of the AU community.

"We've tried to make our guys more of a part of the university," Jones said. "I thought it would be a great opportunity for him. It'll look good on his resume that he's a D1 basketball player, plus the SAAC president, plus an RA. Employers will see that leadership."

The Aussie big man is the first AU basketball player to be an RA and one of only a handful of student athletes who have taken up residential responsibilities. With basketball season now underway, Fisher has to be even more on top of things.

At Nebraska Hall, Fisher promotes sustainability and leadership, the two guiding themes of the upperclassmen residence hall. He helps provide students with academic support and helps organize events. He also makes himself available to chat with residents.

Since his basketball schedule is always changing due to away games and other demands, Fisher often meets with residents late in the evening. Flexibility is key.

"It's commendable," said Jason Autry, the resident director for Nebraska Hall. "Taking on both of these responsibilities requires time management and a level of maturity that many professionals don't have."

Fisher has brought his ability to work on a team to his RA position and being an RA has helped him think more about the relationships around him.

"I think whether you're a part of the basketball team or the RA team, you're working together with a group through thick and thin," Autry said. "I think Daniel thrives in a small network of people working towards a common goal."

This season, Fisher, who now plays forward, has notched minutes in every game and has done a solid job coming in off the bench, Jones said.

"We're still figuring some things out," Fisher said about the team. "We're learning how to play with each other and there are some promising signs."