Achievements
Wrestling Sends Five to NCAA Championships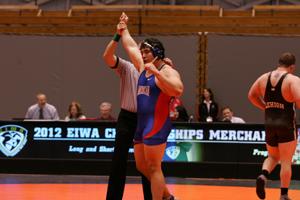 Four wrestlers -- EIWA Champion Matt Mariacher (141 lbs.), EIWA Runner-Up Kevin Tao (149 lbs.), third-place finisher Ganbayar Sanjaa (157 lbs.), and EIWA Champion Ryan Flores (285 lbs.) -- were guaranteed spots in the 2012 NCAA Wrestling Championships, March 15-17 at the Scottrade Center in St. Louis, Mo., as a result of their finishes at the EIWA Championships. Daniel Mitchell received an at-large bid to the NCAAs and is the fifth AU wrestler to earn a berth.

Flores has been seeded as the top heavyweight in the draw, becoming American's first wrestler since Josh Glenn in 2008 to receive the No. 1 seed at the NCAA Championships. The redshirt senior will be making his second appearance as an Eagle at the NCAAs and fourth of his career. The returning national runner-up is a perfect 17-0 this season with 13 pins, and has been ranked No. 1 by InterMat since November 29. Flores captured his second consecutive and third career EIWA title on Sunday. Flores will face Edinboro's Ernest James in the pigtail round with the winner advancing to take on Devon Mellon of Missouri in the first round in St. Louis.

Sanjaa received the No. 5 seed at 157 lbs. and will enter the tournament with a 22-3 record, including five pins, four major decisions, and a technical fall. The senior earned a third-place result at the EIWAs to qualify for the NCAA Championships. The returning All-American finished in fourth place at NCAAs a year ago at 149 lbs. Sanjaa will take on the winner of the pigtail bout between Ohio State's Josh Demas and Kent State's Mallie Shuster in his first round match.

Mariacher earned the No. 11 seed following his second straight EIWA Championship at 141 lbs. last weekend. Mariacher defeated three nationally-ranked wrestlers to earn the EIWA crown and leads the Eagles with 23 wins this season. The NCAA Round of 12 finisher last year has recorded five major decisions, four falls, and two technical falls this year. The redshirt senior will take on Justin LaValle of Old Dominion in the first round at NCAAs.

Tao enters the NCAA Championships unseeded at 149 lbs. following his runner-up finish at EIWAs to qualify for the tournament. Making his first NCAA appearance, the junior is 18-14 this year with a team-best eight major decisions along with a technical fall. Tao has drawn Michigan State's Dan Osterman in the first round at the NCAA Championships.

American's final wrestler is Mitchell, who comes in unseeded at 197 lbs. following his at-large selection. The junior will be making his third NCAA appearance in as many years at American following a 20-10 season with six pins and four major decisions. Mitchell finished in sixth place at last weekend's EIWA Championships. He will face No. 9 Alfonso Hernandez of Wyoming in his first round bout in St. Louis.

The Eagles' five selections are one shy of the program record of six, which was set last season. AU went onto a program-best fifth place finish at last year's NCAA Championships following All-America performances by Flores, Sanjaa, and current volunteer assistant coach Steve Fittery.